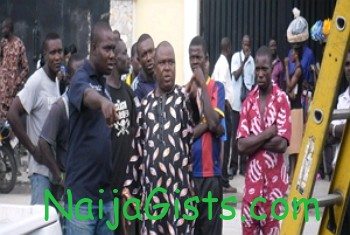 Dec 28, 2012 – PHCN Worker Electrocuted In Lagos At Bode Thomas Street Off Iponri Central Mosque
A staff of the Power Holding Company of Nigeria(PHCN) has been electrocuted while trying to rectify an electrical fault on a high tension cable.
We gathered that the deceased, Sunday Johnson, 36, was until his death, a PHCN staff attached to Adelabu Undertaking at Iganmu.
He was said to have gone with two other staff of the company in a pick-up van owned by PHCN to rectify a fault at Bode Thomas Street, opposite Iponri Central Mosque, when he died.
One of his colleagues said they went to the location to rectify a fault but the deceased failed to heed their advice to wear his gloves and safety boot.
"We came to rectify an electrical fault and before he climbed the ladder we warned him to put on his hand gloves and safety boot but he refused. As he touched the cable, he got electrocuted," he stated.
A PHCN manager who also craved anonymity blamed the deceased for failing to follow the guidelines issued out for repairing faults on high tension cables by PHCN.
"He should have followed the guidelines stipulated for carrying out repairs. Under normal circumstances, there should be outage from the substation. He was also expected to carry an operating rod that would bridge the three lines when correcting the fault. In case there is sudden power, it would prevent electrocution as the light will go back to source," he explained.
He assured that the incident would be investigated, adding that a report of the incident has been lodged at the Bode Thomas Police Station, while the corpse has been deposited at the mortuary.
[Source]