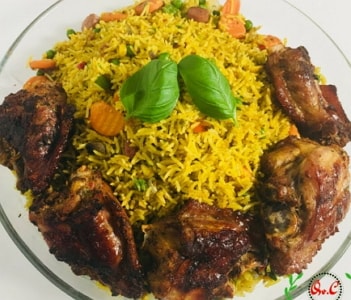 TOP 2 POPULAR NIGERIAN RICE RECIPES AND HOW TO COOK THEM
Rice, you are not truly Nigerian till you have had all the different Nigerian rice recipes. It's odd and a bit funny how dependent we Nigerians are on rice. It is the most basic of all the staple foods in Nigeria right next to yam, beans and cassava. Nigerians eat a lot of rice. Rice is also grown here in Nigeria in a few states like Benue, Kogi, Ebonyi, amongst others. However, our Nigerian rice of course is more than just a bit different from rice from other countries especially Asian countries. Nigerian rice comes in shorter often broken grains. A lot of people prefer the foreign variety of rice but Nigerian rice recipes are actually best made with Nigerian rice. Imagine eating jollof cooked with basmati rice, not nice at all.
Since rice is the most basic staple food, rice recipes abound, some more popular than others. In this article I would be writing about the 2 most popular rice recipes in Nigeria and one of them is the queen of all rice recipes and of Nigerian food as a whole, Jollof rice.
I hope you enjoy trying out these recipes, preferably with Nigerian rice.
How To Cook Nigerian Party Jollof Rice
Ingredients
4 cups of rice
½ kg beef
2 small sized tinned tomato paste or 2 tomatoes paste sachets
1 medium sized onion
2 medium sized fresh plum tomatoes
2 cooking spoons of groundnut oil
3 medium sized carrots (optional)
2 green bell peppers
2 tablespoon of cayenne pepper
3 tablespoon ground crayfish
I teaspoon of curry powder
2 knorr seasoning cubes
Salt as required
Jollof Rice Cooking Instructions
Use previously destoned rice to save you the stress of having to pick stones out of the rice before preparing
Wash rice in clean cold water.
If you are using rice that hasn't been destoned then you would have to carefully pick the stones out of the rice before you begin to wash and even while washing, feel around to bottom of the bowl for stones and remove any you might find.
Put the washed rice in a pot and add about 3 cups of water, enough to cover the rice properly. Place over medium heat and begin to cook for 10 minutes till rice grains are slightly tender.
Remove rice from heat. Wash in cold water twice till all the white starchy water has come off the rice.
Prepare the ingredients for cooking the rice. Dice the onions, wash and chop carrots and green pepper.
Cut the tomatoes into circular slices and set aside.
Wash and season beef with seasoning cube, onions and a pinch of salt.
Place on medium heat until beef is very tender and ready to eat. You can serve boiled beef with the jollof or you can choose to fry the beef.
To a dry frying pan, add 3 cooking spoonful of vegetable oil and place on medium heat.
When the oil is hot, add the beef and allow to fry for 5 minutes till it is dark brown.
Flip the beef to the other side and also allow to fry till golden brown.
When you remove beef from heat, add the tomatoes to the already hot oil. Be careful not to let the oil splash on you. Add the onions too, stir constantly for 5 minutes.
Add a little water to the paste to stop it from burning. Add crayfish, cayenne pepper, curry powder, seasoning cubes, salt and stir.
Add more water at this point, enough to cook the rice till it is tender. This should not be too much though so the rice doesn't get too soft.
Add the carrots and green pepper to this. Remove the pan from heat. Pour the stew you just made into the pot containing the rice.
Combine the rice and stew in the pot till it's evenly mixed.
Set on medium heat and cook for 5 minutes.
The rice might begin to burn before 5 minutes or even before the water in the pot dries.
This is perfectly normal and adds to the flavour of the jollof, all you have to do is use a cooking spoon to poke holes in the rice to let water pass to the bottom of the pot.Cook till all the water is dried and rice is perfectly tender. Remove heat and stir the rice to combine it properly and mash the rice a bit.
Garnish with fresh tomatoes and beef and serve hot.
How To Cook Nigerian Party Fried Rice
Ingredients
3 cups of rice
3 cooking spoon of vegetable oil
2 tablespoon curry powder
½ kg of chicken
1 large onion
4 seasoning cubes
½ a medium tin of sweet corn
2 green bell peppers
Green peas
¼ kg liver
½ cup kidney beans
3 medium sized carrots, washed and scrapped
Nigerian Fried Rice Cooking Instructions
Boil rice in warm water over medium heat for 5 minutes.
After 5 minutes check that rice is slightly tender but not completely cooked. Wash rice and set aside.
Wash chicken and liver, season properly with seasoning cubes, nutmeg, ginger, salt and garlic as required.
Set on medium heat and cook for 10-15 minutes till chicken is tender and ready to be eaten. Take out of the stock and set aside.
Prepare other cooking condiments by chopping each one to size.
Boil the green peas for 3 minutes and set aside.
Take the liver out and chop into tiny bite size cubes.
Pour the parboiled rice into the chicken stock and set on medium heat. Taste for seasoning now that rice has been added and add whatever that might not be   enough, maybe seasoning or salt. You can add the cayenne pepper now.
Boil until the meat stock is dry and rice is soft enough to be eaten.
Remove from heat and set aside.
Fry the chicken in a frying pan with vegetable oil till golden brown. Remove from heat and set aside.
To a fresh pan add one cooking spoon of vegetable oil. Set on medium heat and add a little bit of liver (about one cooking spoonful). Stir for a minute while liver stews in hot oil. Add same quantity of carrots, green pea and sweet corn and stir.
Add 3 cooking spoonful of the already cooked rice and fry for another 3 minutes.
Remove the rice from the pan into a fresh pot or a dish for serving.
Repeat the process till all the rice that was boiled has been fried with the vegetables.
Serve hot with the fried chicken.