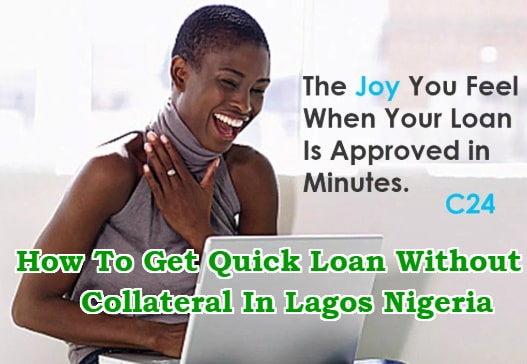 How To Get Quick Personal Loans Without Collateral In Lagos Nigeria (Fast Step By Step Guide)
Are you a wholesaler, retailer, trader or an entrepreneur looking for a quick loan to invest in your business but without a collateral then you will be amazed to know that there are online platforms that offers you loan at a fast rate and without collateral or any documentation but you just have to meet their requirements and within 24hrs of application the loan would be paid directly to your bank account.
Not only business owners can apply for a quick loan.
It is also open to individuals who are in urgent need of money to meet their transaction and precautionary problems and are not capable of doing so because of unavailability of money till the end of the month in which they are to receive their salary.
Most business owners and individuals who requires loan can't afford to put up an asset/property for collateral that most lending agencies/companies /institutions demands as security for repayment of loan and as such they look for other means to acquire loan which doesn't require a collateral.
It is safe to say that there can no longer be an impediment to investing in your business or obtaining a loan that requires a lot of protocol because now you can acquire loans in a very easy way due to the online loan providers that do not demand collateral before loan can be granted to you.
Many has testified that such platforms has worked greatly for them and yours cannot be an exception as far as you meet up to the much needed requirements.
As much as this online loan platform option seems laudable it still has its hiccups.
Though, this idea of online money lending is good there are till testimonies that there are some restrictions which by the way is plausible because you can't expect to be given a loan if you are incapable of paying back and so they take precautionary measures to ensure that lending money to you is not fruitless.
The major problem of business owners be it small or big is access to capital and with the quick online loan platform, that is no longer a problem.
No more stressful visits to the bank, with your Android device and a data connection, you can have access to that loan you need.
Online Loan Lenders That Provide Quick Loans In Nigeria
1. Paylater: They provide instant short-term loans for your urgent need or investment in your small business.
It is fast, reliable and secure and works 24/7.
They offer quick loans of up to #1,000, 000 within minutes of application.
No documents or collateral is required.
You can also earn interest of up to 15.5% annually by investing in their investment plan.
Loans on this platform are available to student, salary earner or self employed individuals.
There is no hidden charges or late fees associated with this platform.
You also get to receive rewards when you repay loans granted to you on time, perform transactions or refer a friend in the form of larger loans, lower interest rates and free cash.
Interest rate: 2% monthly on the first loan
loan tenure :60days to 6months
Requirements : Android device, a data connection, valid bank account and bvn Website : www.paylater.ng for more information.
2.Fairmoney: This platform makes it easy to access loan via your mobile phone anytime and anywhere.
Loan that can be accessed on this platform ranges from #25, 000 to #100, 000 Loan duration : 4 to 24 weeks
Rate of interest : 5% to 28%
No paperwork, collateral or documents needed.
No hidden charges or additional fees for processing your loan. You can get reward or discount when you payback on time.
It allows loan to be paid in multiple installments.
Verification of identity : smartphone data including your sms history. Loans approved are paid directly to your bank account.
Credit decisions on this platform are made in seconds.
Email : help@fairmoney.ng for your complaints,inquiries and questions. 3.palmcredit:Instant loans are provided on this platform.
Credit limit : #100, 000 Loan is approved instantly.
Interest rate: 7% free for 2 days after loan has been received.
No collateral, no paperwork or office visitation.
Bonus are rewarded for referring a friend which is #10, 000.
Online availability : 24/7 online service to help meet with your demand /complaints as the case maybe.
For more information : www.facebook.com/palmcredit.
3.Kwickcash: Requires a 9mobile line and a valid bank details. To access loan dial *561#
Loan accessed on this platform is up #100, 000 which you can receive in 3 minutes. Interest rates: 10 to 20%.
Loan duration : 14days
It attracts a network fee of #20 per loan. No collateral or paperwork needed. Repayment of loan: through debit card
4.Snap credit :Requires bank details and proof of employment. Rate of interest : it depends on the type of loan applied for. Loan duration : 1 to 12 months
It grants you access to more than several loans at once. Repayment of loan : from your salary every month. No collateral, paperwork needed.
Websites That Gives Quick Online Loans In Lagos Nigeria
1.Branch
2.Rapid cash
3.Quick check
4.Smedan
5.Kiakia
6.lydia.co
7.Payconnect
8.Fint
9.Aella Credit
10.c24 limited
Getting quick loans is not difficult and involves no stress whatsoever like that associated with banks and other lending agencies.
How To Get Quick Loans Without Collateral In Nigeria
1.Visit any of the online loan platforms mentioned above and fill in the loan application form.
2.Provide the necessary requirements needed
3.Wait for approval which would not take long.
4.Once approved, your loan would be paid directly to your bank account.
Quick Loans is very beneficial because it meets that unexpected cash problems which can be like a bone stuck in your throat and that is not a pleasing experience.
Quick loans has made it quite possible for your urgent financial obligation to be solved and also for small business owners who are looking for short-term loans to invest in their business to have the loan they need at their disposal.
You don't have to go through that rigorous process banks or other lending agencies demands of you just to get a loan and with that burdensome demand for collateral as security for repayment.
It is paramount to have rest of mind and not be troubled on how to repay back your loan as at when due and as such some of these online loan providers has made it possible for loans to be repaid in installments and also give mouth watering rewards when loan is paid on time or when you refer someone which can be a positive encouragement.
Isn't it wonderful that with just your android device, a data connection and the suitable loan app,your immediate monetary problem can be solved.
Quick Loans is open to all ranging from students , salary earners, business owners and self employed people. All that is needed to access this loan is a valid bank details, a valid means of identification and some of this online loan providers demand for bvn or proof of employment which some people find very unreasonable but that is why there is a whole lot of platforms to choose from and there is definitely one or more that would suit your purpose.
Some people are more aggrieved about the fact that their loan request were declined due to one reason or the other but that is why they have contact service that would
attend to your complaints which is available 24/7 round the clock. Be rest assured that the problem would be solved and your loan would be granted.
There are many positive feedback on this online loan platforms that suggest that the whole online lending thing is not a bad idea after all and more of a welcoming innovation because they save you the stress and disappointment associated with applying for a loan from the bank and yet been declined because of some strict requirements which you are not able to meet up to.
You might think these are empty rants but i sure know that you have been able to get a thing or two from this article which can be resourceful to you.
One last thing though before i draw the curtain is to let you all know that don't apply for a loan if you know you are not in anyway capable of repaying back.
This is because some people apply for a loan to settle their financial problem which in return will not generate income because such problems includes house rent, children school fees, food, electricity bill, etc and they don't have lucrative means in which the loan can be repaid which can lead to ill consequences.
Loan application should only be suitable for people in the category of salary earners, self employed people , business owners and those that still have a means of generating income for themselves and those who know that the loan would be used to start a business which can be a profitable venture.
Final words, quick loan is the ultimate ticket to your urgent financial problem.