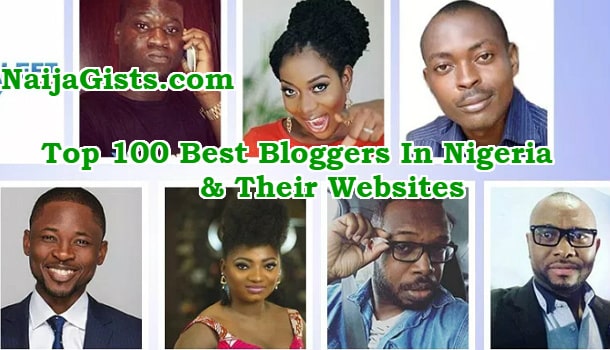 Top 50 Best Bloggers In Nigeria In 2019 And Their Websites
We are in the Internet age and lots of contents are up on the Internet for your reading pleasure but people are now seeking for good content, one that would keep them glued to their seats from start to finish and leave them asking for more.
One thing is that i like to read and if i don't see that content that catch my eye then it is best ignored.
When you go up on Google to search for any current juicy news in the country, some blogs pop up bearing that content and it is what you see at first that makes you click on the website and if the contents of the blog site is good enough then you would want to read more after the first read.
Top 100 Best Bloggers In Nigeria List
People like gossips, they want to be updated on things happening around the world or things happening on social media or even news about famous celebrities and as such this bloggers makes it possible for you to know every little details you sort for.
Reading erase boredom. When you are less busy and you don't know what to do, you can just pick up your phone and search for news be it entertainment, fashion, lifestyle, sports, technology, politics, etc and in less than a second you would have what you seek.
Blogging nowadays has become a lucrative venture most especially in Nigeria.
If you are a skilled writer that knows how to wow your audience and leave them asking for more, then you can start a blog and start getting that dough from blogging.
In Nigeria, there are famous bloggers who have made money from blogging and their unique content have been able to distinguish them from the lots.
They also have advertisers wanting to advertise their contents on their blog.
These bloggers goes the extra mile just to bring you content you would love. Their creativity just adds honey to your tea.
In this article, i would let you know the top 50 bloggers in Nigeria to look  out for.
Without wasting much time and in no particular order, I present the top 50 bloggers that would take reading for you to the next level.
Top 50 Best Bloggers In Nigeria In 2019 And Their Websites, Blogs Address
NaijaGists.com, a top entertainment and motivation blog employed me and many other writers out there and they made it possible for me to complete my studies. I have been working with their partner site, WePayWriters.com for quite some time now and I can tell you the experience is a good one. I love their content and the way the site is arranged.
I thought it is a new blog until my friend told me they have been around since 2010. It has become my go to blog for information and celebrity gossip. NaijaGists Media CEO name is Victoria Ade. She manages several other information blogs and has over 1350 content writers under her payroll. If you are reading this content, I'm one of their interns and I love working here. I hope to stay with them for long. It is indeed a blessing working for them.
Linda Ikeji
The blogging world in Nigeria would not be complete without mentioning Linda Ikeji. She is the most talked about blogger in Nigeria and she has carved a niche for herself by her terrific way of blogging.
She originally hails from Nkwerre in Imo state, Nigeria and her full names are Linda Ifeoma Ikeji. She is a blogger, an entrepreneur and a writer.
Her blog was her biggest venture which she started after graduation in the year 2006 but became more active in the year 2008.
She has won awards for herself and also has other profitable ventures to her credit.
If you are looking for news, events, entertainment, lifestyle, fashion, beauty, inspiration and gossip content then her blog is where you should alight.
Uche Eze Pedro
She is an award winning media tech entrepreneur and the CEO and founder of BellaNaija which commenced in the year 2006.
She initially started her blog as a way to kill boredom but now it has grown to be one of the biggest blog in Nigeria.
Her blog showcases wedding events and fashion shows pictures which has real made her to stand out.
She has featured on Oprah Winfrey show, CNN and other profitable platforms. She brings colours to the world of blogging.
You can visit BellaNaija.com for juicy contents to feed your eyes.
Olutayo Tyler Duncan
e is the brain behind tooxclusive.com which was launched in the year 2010. He is a music blogger.
His website mainly showcases music video downloads, reviews, industry news, top 10 charts, interviews and other music related stuff.
His blog is one of the top music blog in Nigeria. His blog has won numerous awards.
If you love music and you are looking for gist, latest music to download and any other thing related to the world of music then you should visit his website and you would not be disappointed.
Ademola Ogundele
This is another music blogger who has taken the world of blogging by storm for his exclusive content.
He is the founder of notjustok.com which he started in the year 2006.
His blog can boast of having 1.2million viewers every month from around the world. He has numerous awards to his credit.
If music is what you dig and you are looking for where to get that latest music for your listening pleasure then notjustok.com is the preferred website to visit.
Makinde Azeez
The founder of naijaloaded which commenced in the year 2009.
He brings trending news about celebrities, sports, education and other important information for your reading pleasure.
He is also among the top bloggers in Nigeria. Website:www.naijaloaded.com.ng.
Noble Chibuzor Igwe
He is a blogger, a writer and an entrepreneur. He is the founder of 360nobs.com,an entertainment and lifestyle website which officially started in the year 2010. He has done really well for himself both as a blogger and as an entrepreneur.
Website :360nobs.com
Top 100 Richest, Most Successful Bloggers In Nigeria 2019
Information Blogs About Day To Day Living In Nigeria.
Ladun Laidi
Her blog is the right dish for a sunny day or any time of the day. It comprises of entertainment gists, fashion, politics and news. She just know how to spice up a dish with the steaming gist she brings to the table.
The founder of ladunlaidiblog leaves her readers wanting more. Website :LadunLaudiNews.com
Onibalusi Bamidele
He is the former owner of youngprepro.com which was later rebranded to writersincharge.com in the year 2013.
His works has been featured in Digital journal, Forbes, millionaire journal, etc He is an inspiration to writers in Nigeria and beyond.
He keep his readers engaged by telling them how to start their own writing blog, increasing traffic and make money from it.
His blog his very helpful for those who are looking forward to a career in writing. Website:writersincharge.com
Chude Jideonwo
He is a lawyer, an award winning journalist and a media entrepreneur. He is the co-founder of Y!Naija which is best for entertainment and political news.
He is one of the blogger in Nigeria to look at for. Website:YNaija.com
Laila Ijeoma
Her blog never fails to provide interesting contents on a daily basis be it in the world of entertainment, politics, lifestyle, fashion, etc.
Her blog LailasBlog.com is one of the most sort after blog in the country with a wide reaching audience both in Nigeria and abroad.
She is a breath of fresh air if i must say. Website :LailasBlog.com
Stella Dimoko Korkus
She is a blogger who just sets the flame burning with her aggressive blog posts which is what puts her out there. Her blog covers celebrities, political and every other news worth knowing.
Website:StellaDimokoKorkus.com
Jide Ogunsanya
A biologist turned blogger whose blog never ceases to educate the teeming readers who visits his blog.
His blog is a mixture of tutorials, tech reviews and business start up ideas which is quite informative and educative.
Website:ogbongeblog.com
Emeh Achanga
Her blog misspetitnigeria which commenced in the year 2012 is a wealth of information for Nigerian readers. She always have juicy news calling for readers attention. She is also among the top bloggers in Nigeria.
Website :MissPetitNaijaBlog.com
Loy Okezie
His blog gives an insight into the world of technology, the latest gadgets, consumers electronics and any other tech related news.
Website :Techloy.com
Ayeni Adekunle Samuel:His blog Thenet.ng just keeps you loaded with celebrities gists, fashion news , lifestyle, music, videos, latest news and information.
His blog just gives you that jollof taste. Website:Thenet.ng
Japheth Joshua Omojuwa:He is a social media activist, blogger, public speaker and a political commentator. He is the founder of omojuwa.com which commenced in 2009.
He is a columnist with The punch newspaper, leadership newspaper and naij.com His blog is mostly based on political happenings in the country and Africa in general. Website:omojuwa.com
Kemi Filani:Talk about another blogger who knows her onions. Her blog just gives a little bit of everything from latest fashion trends to celebrities news and also other news that should be known. Website:kemifilani.com
Ono Bello:She is a fashion and beauty blogger.
She is the founder of onobello.com and her blog is definitely one you would love to visit.
Chidimma Umeh:She is a fashion, beauty and lifestyle blogger.
Her blog takes you into her world of fashion, makeup and lifestyle and if you want to learn a thing or two about how to apply makeup then you should visit her blog.
Website :Thatigbochick.com
Osemhen Akhibi:Her blog depicts how to be a good writer and what it entails to have a successful writing career. Her blog is also motivating and informative in helping those who wants to become professional writers.
Website:Eurekanaija.com
Ajetunmobi Sheriff:He blogs about sports news , entertainment news, educational news and lifestyle trends to keep his readers in line and waiting for more.
Website:ajetun.blogspot.com
Lovette Ajayi: She is a Nigeria author, speaker and digital strategist. She started blogging in the year 2003. Her blog awesomelyluvvie.com has to do with recaps of famous TV shows and other entertaining news happening in the world.
Temilola Balogun Akinmuda:She blogs on parenting and her blog has inspired other mothers out there.
Website:ftmbaby.com
Chioma Iwunze:Her blog is just an avenue for upcoming writers who wants to be professional because she gives tips on how to be a good writer.
Website:creativewritingnews.com
Myne Whitman:She is a story teller and uses her blog to portray that. Website:mynewhitmanwrites.com
Otunba Akin Alabi:The founder of nairabet, a sport betting site and a famous blog site. Website:www.nairabet.com
Daniel Tobi Oyetoro: Website:www.yabaleftonline.com
Omoyele Sowore:He is a Nigerian political activist. Her site has earned the "the wikileaks of Africa"
He is another blogger climbing that ladder to the top in the world of blogging. Website:www.saharareporters.com.
Don Caprio:He is a seasoned blogger and web designer. Website:Doncaprio.com
Jamimah Fabian:She is among the top creative bloggers in Nigeria. Her blog helps to nurture raw talents.
Website:showitnaija.com
Tobi Ayeni:She is a tech blogger who is keen on knowing and sharing what the tech world has to offer.
She has carved a niche for herself through her blog "misstechy" which is rather unique. Website:misstechy.com
Yemisi Aiyedun:She is another creative blogger to consider and a famous one at that.
Her blog centers on lifestyle, fashion tips, food and restaurants reviews and many other readable topics.
Website:www.sisiyemmie.com
Paschal Okafor:He is a tech blogger and the founder of NaijaTechGuide which gives latest news in the world of technology and also latest gadgets and their reviews. Website:www.naijatechguide.com
Ovie Ofiakpone:He is a gossip blogger who has left his footprint on the sands for his juicy and creative contents in his blog.
Website:www.amebo9ja.com
Oluwatosin Ajibade:She is a news media entrepreneur, a blogger, digital content strategist and a writer.
She is the founder of olorisupergal.com which commenced in the year 2010.
Her blog is packed with all the ingredients that would definitely spice up your day. It contains every juicy content for your reading pleasure. Website:olorisupergal.com
Dobby:She is a food blogger and the founder of Dobbyssignature.com which gives an insight into local dishes and how it is prepared.
Website:www.dobbysignature.com
Micheal Chibuzor website:contentmarketingup.com
38.Joseph Adediji Website:bloggingtipstoday.com
39.Shola Okubote Website:woman.ng
40.Lateefah Adesanya website:That1960chick.com
41.Oscar Frank Website:oscarmini.com
42.Uthman Saheed Website:myschootrick.com
43.Olusegun Fapohunda website:myschoolgist.com.ng
44.Akpene Jacob website:lasgidionline.com
45.Tomi Adesina website:Tomiadesina.wordpress.com
Adesoji Adegbulu website:adesojiadegbuli.com
Wale Adetula website:thenakedconvos.com
Yomi Pro website:Yomiprof.com
Titilayo Ama website:spreadmediang.com
Uchenna Uwandu website:9jaupdate247.com
Proper Noah TipsOnBlogging.com
BacklinkProfessor.com By Victoria Adewoyin
The mother of all blogs in Nigeria is this very brilliant blog that I highly recommend for all Nigerians, it is called BacklinkProfessor.com.
She provides blog post ideas and SEO strategies for all bloggers.
Nigeria is really blessed with unique talents taking over almost all niches.
I hope this list of best bloggers in Nigeria 2019 has been of help.
For more interesting ideas, keep in touch at NaijaGists.com/ideas.
Follow us on Facebook and Twitter @ naijagists.
Do you have a successful blog that is not mentioned on this list, feel free to drop your website below.
Just drop the name in the comment box below for inclusion and avoid link dropping.