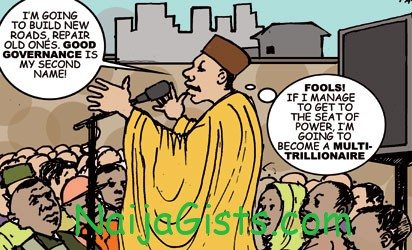 Dec 6, 2012 – Nigeria After 52 Years Of Independence: Our Battle With Change
"It may be hard for an egg to turn into a bird; it would be a jolly sight harder for it to learn to fly while remaining an egg. We are like eggs at present. And you cannot go on indefinitely being just an ordinary, decent egg. We must be hatched or go bad." – C. S. Lewis
"One of the great liabilities of history is that all too many people fail to remain awake through great periods of social change. Every society has its protectors of status quo and its fraternities of the indifferent who are notorious for sleeping through revolutions. Today, our very survival depends on our ability to stay awake, to adjust to new ideas, to remain vigilant and to face the challenge of change." – Martin Luther King Jr.
Change!
Change is a word that has become so relevant in this age and time wheneverything is turning at a fast pace. The dissemination of information, the rate at which customs are evolving, etc. are all pointers to the fact that things are changing, and we must be prepared to either face this new challenge or stay stuck in the past.
As I write this, my thoughts are with Nigeria and the ordeal the entire citizenry has had to live with. I look at people who have had it rough in the 52 years of the existence of the nation. I look around and see people who have been told year in year out, "things are going to be different this year." But things have always stayed the same.
I see people who feel betrayed on all fronts; their traditional rulers have mortgaged their authority in the society for a 'plate of porridge.' The religious leaders have not only sold off their voices to the oppressors of the people, but they actually take part in the subjugation process. The elected leaders have turned political office into personal businesses and couldn't care less about the people who risked limbs to vote them in. And I see people who have been told so many lies that they can no longer see the truth.
We ask ourselves why with all these things going on, do people still prefer to either keep quiet or repeat that age-long slogan that has kept people down "e go better".
E go better, e go better, 52 years have passed. E go better, e go better, our oil is drying up while we have nothing to point to as achievement. E go better, e go better, other nations are catering for the needs of their citizens, we are squandering money on building the biggest banquet hall in Africa. E go better, e go better, other nations are making policies that will ensure their children are educated, Nigerian government is making policies that will end the hopes of our youths. E go better, e go better, nations are trying to keep people off the streets and empower them, we are ending people's work without providing genuine alternatives.
The challenge is simple; we either hatch or go bad. We either speak up or remain silent forever. We must be prepared to get off that high horse of nonchalance and join the people who actually want things to change. We must collectively re-assert our rights to quality and affordable education, security of our lives and properties, transparency and accountability.
We must demand that our traditional rulers/community leaders begin their journey back to relevance by refusing to be puppets of the government; they must go back to the times when their decisions alone command fear. Religious leaders must be reminded that they have an obligation to say the truth without diluting it.
There must be an end to the parasitic lifestyle they have chosen. The welfare of the people must come first before allowing themselves unnecessary luxury. As for the elected leaders, we must demand accountability, they must either start caring genuinely or prepare to start losing woefully.
Finally, in a changing world, although our views on issues may change, our perception of situations may differ; our resolve must remain firm and unshakeable. Remember, a new Nigeria is possible, we must never give up on that dream.
God bless Nigerians!
About the author:Ogunjimi James Taiwo Twitter Handle: @hullerj