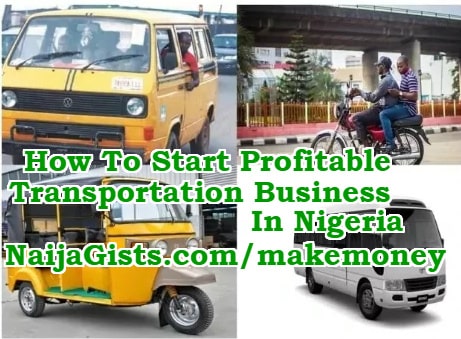 How to Start a Bus, Taxi, Okada Transportation Business in Nigeria & Make Money (New Guide)
Transportation involves conveying passengers from one location to another. The system of transporting people is a business commonly ventured into by many people in all parts of the world, and more people keep joining this business every day.
Do you have a vehicle that is suitable for transportation in Nigeria? Maybe you're afraid of joining the union of road and transport workers because of the heavy charges involved and other expenses, right? It pays to use a vehicle for transportation business so far you own it, be it a bus, a lorry, or any type of transportation-enabled vehicle.
One thing you need to bear in mind is that there are a lot of people like you who have been involved in the transportation business so far, yet, you're afraid of joining in consideration of so many factors. You have all the rights to get involved in any business opportunity that comes your way.
Because a lot of people, or perhaps, all men have reasons to move from one place to another which may involve taking a bike or boarding a commercial vehicle in case the journey might be longer than what can be trekked, it makes this business more profitable.
Guide To Starting A Profitable Transportation Business In Nigeria
Here are some ways in which you can start a transportation business in Nigeria:
Get a vehicle suitable for the business
Register a plate number for the vehicle
Join the National Union of Road and Transport Workers (NURTW)
Provide all the needed motor spare parts and precautionary equipment in accordance with the policy of the Road Safety Corps
Get all the licensing and insurance particulars ready
Always provide sufficient fuel for the vehicle
Service the engine at regular intervals to prevent it from knocking down
Get a Vehicle Suitable for the Business
Before joining the transportation business, you need to ensure that the vehicle is still very sound and highly-suitable for the business.
For instance, if you want to be conveying passengers to Lagos from Osogbo, your vehicle must be sound. The engine, the gear, as well as the clutch must be working properly. As you know, Lagos is several kilometers away from Osogbo. And for you to register your vehicle along this route, all the parts of the vehicle must be very sound.
If your vehicle has always developed mechanical faults too frequently, know that it's not going to be suitable for transportation business along Lagos-Osogbo route.
Register a Plate Number for the Vehicle
Is your vehicle registered with a plate number assigned to it at all? Do you have a plate that is assigned in accordance with the requirements of the Ministry of Licensing and Transport? If yes, then you're few steps away from starting a transportation business the right way.
Your plate number is a unique number that is assigned to your vehicle which makes it unique and different from the millions of vehicles in Nigeria. Your vehicle is first identified by the plate number assigned to it by the ministry.
The plate number makes it difficult for armed robbers to steal your vehicle while moving on the road or when it's parked. Though registered vehicles are stolen away from owners in Nigeria, the plate numbers will reduce the extent to which this may be happening in our environment.
Join the National Union of Road and Transport Workers (NURTW)
You cannot start the transportation business without first joining the appropriate union. Any attempt to do this business without becoming a union member may result in prosecution in the court of law or heavy punishment in the hands of the union.
You'll be required to pay a certain sum of money before you can officially become a union member. Once you've made the membership payment and have paid all the necessary dues, you'll be allowed to start taking your turns at the motor garage or elsewhere.
Some people were caught cheating by picking up passengers along the road. Some of these defaulters were severely punished while others were prosecuted according to the degree of their offences.
Provide all the Needed Motor Spare Parts and Precautionary Equipment in Accordance with the Policy of the Road Safety Corps
Do you have all the motor spare parts such as extra plugs, extra rims, brake oil, gear oil, brake pads, and others that may be required by the Road Safety Corps while driving along your transportation route? Do you have all the precautionary equipment such as fire extinguisher, water, soap, and others that may be needed when there is occurrence of fire along the road?
For a transporter who always wants to drive safely and return home with peace every day, all these things mentioned above are necessary and must be provided.
Get all the Licensing and Insurance Particulars Ready
There are some licensing particulars such as driver's license, vehicle license, insurance paper, road worthiness, and others that you must acquire before you can be allowed to join the transport union.
All these particulars are meant for protection and are required by the government for all vehicle users including the private vehicle owners.
Licensing offices and insurance companies are in all localities across Nigeria. So, you'll have no excuse to give to the union or/and the Road Safety Corps on reasons you cannot present those particulars on demands.
Always Provide Sufficient Fuel for the Vehicle
If you're supposed to have up to 60 litres of petrol in your vehicle tank to transport passengers from Osogbo to Lagos, then make it up to 70 litres to be on the safer side. This is because there are occasions whereby the vehicle may be over heating. And when this occurs, it makes the vehicle to consume much more fuel. The fuel consumption rate of the vehicle increases.
In such occasions, the expected 60 litres that should have been used for the journey may not be enough eventually. And this may lead to the vehicle breaking down in the bush which is quite dangerous with the current security problem of Nigeria.
Service the Engine at Regular Intervals to prevent it from Breaking Down
As you continue using the vehicle for transportation, the engine will be getting older every day and this will call for servicing and re-servicing at regular intervals.
Aside from protecting the lifespan of the engine, you'll enjoy the vehicle more by regularly servicing than not doing that.