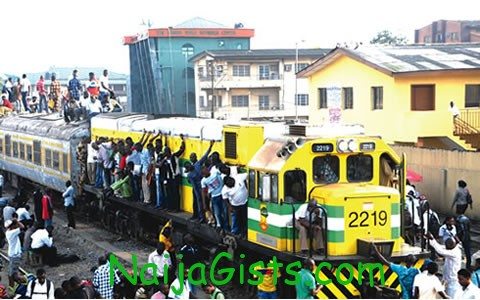 August 27, 2012 – Lagos Unpleased With Nigeria Railway Corporation Safety Measures
The Lagos State Safety Commission is sad that the Nigeria Railway Corporation, NRC, is not adopting enough safety measures to stop passengers from hanging on moving trains. naijagists.com
The commission is not happy with the way traders take over railway line to sell their wares as well as absence of barriers to stop motorists and individuals from crossing the rail when a train is approaching.
Director General of the commission, Mrs Odebunmi Dominga, who spoke in Lagos, appealed to the NRC to improve safety control and other measures in its operation in the state.
"The practice of passengers hanging on coaches of train is totally unacceptable. Residents should not collude with station managers on this act, considering the huge impact of a train accident.
"We will continue to mount pressure on the management until they can demonstrate that they are on top of the situation, but right now we are not pleased with what we have seen on ground," she said.
Odebunmi stated that the government would not fold its hand considering the immense impact an accident on rail can have, saying that the commission had held several meetings with NRC management but there had not been remarkable improvement in ensuring adequate safety on trail.
"We have seen recent happenings which point to the fact that safety measures are not in place but as a proactive government we cannot remain silent, knowing that necessary steps have not been taken to change the situation."
"We held a meeting with the management, and the last one was held with the director of operations and it was clearly stated that you cannot deal with safety issues if you don't have a structure in place," she said.
"It is in view of this that the government is urging the NRC management to improve the station's safety control. Such services can be out-sourced or be carried out independently," she added.
Odebunmi stated that there was an urgent need to improve rail crossing operation, as the corporation needs to put in place gates or barriers at railway stations to prevent people from crossing when a train was on sight.
"There is need for our people to understand that the brakes of train is different from that of a car and as such should be patient enough to allow the train passed before crossing.
"There is need for rail track safety measures implementation. The state government will continue to mount pressure to ensure that things are put in their proper perspective," she said.