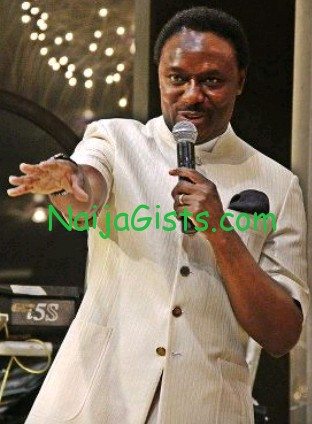 Oct 29, 2012 – Pastor Chris Okotie's Ex-Girlfriend Battles To Marry Him
That the founder and the General Overseer of the Household of God Church, Pastor Chris Okotie packed it up with his second wife Stephanie Henshaw is no more news, just like the fact that a lot of people were caught unawares by his declaration that he was going to marry for the third time this December.
However, the announcement a couple of weeks back that the funky pastor will be getting married soon stirred some activities around his Oregun Lagos church, as some female members whose hopes were dashed when he decided to marry Stephanie four years back are currently jostling at the background to fill vacant the position of "Mrs Okotie."
Some of the ladies who are strongly rumoured to be on this list and whom the man of God has played a prominent role in their lives include, Sola Salako, who was the church's head of administration for several years, and Okotie's close aide, Vien Tetsola, a former Miss Nigeria, Ure Okezie, daughter of former minister, Dr. Okezie, who later dated hip-hop artiste Soul E, but who has since moved on, and Rose Elishama Ideh, who became a frequent visitor at many of Okotie's church events, and who played a major role in his last presidential campaign. All of these women quit the church in the heat of union then hoping that Okotie would one day wake up from the spell of the Calabar beauty, and their prayers were answered in June this year.
The argument of the women against the choice of Stephanie was that Pastor Chris had been the family pastor during her two marriages and Stephanie's second husband was his oldest church member. The story now is that since the pastor who was the presidential candidate of his Fresh Party is free from his marriage and has signified his intention to remarry, there is need to return as the race for the role of Mrs. Okotie is open.
First to signify her intention is Ure Okezie popularly known as Queen Ure. When Okotie's rejection pushed her into the arms of younger Soul E whom she dated for about four years before Soul E walked out of the relationship, she recently returned to the fold of the pastor that his known for his excessive grammatical expression laden sermon.
When questioned about Christ Vila, the church she co-owned with her ex-lover, she replied that she has returned to Pastor Chris Okotie's Household of God Church and that she now worships there, raising questions as to why she chose to return to the church immediately after the break-up between the pastor and Stephanie.
Sources close to the church also revealed that it is a matter time before others like VienTetsola, and the rest return as the office of the wife of the pastor has now suddenly become vacant since most of the women in question are still single with the exception of the Roli Adeniyi who has since become married to the former vice-chairman of the Peoples Democratic Party (PDP) South-west, Chief Olabode George.(GlobalNews)