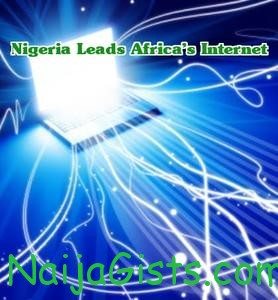 Nov 28, 2012 – Nigeria Has The Fastest High Speed Internet Service Providers In West Africa
Nigeria's telecoms and IT sector has proven to have massive growth potential in the coming years; but the country must first overcome a number of key industry challenges before the sector can fulfill its potential. One of the largest challenges is the lack of reliable power supply to the region; however, deficiencies in ICT infrastructure must continue to be addressed.
Software piracy remains evidently rampant within the country as per a recent study released; the commercial value of unlicensed software installed in 2011 represented an 82% rate of piracy, nearly double the global rate of 42%.
The Nigerian government has launched a series of initiatives to reinforce the information and communications technology (ICT) sector within the region. These efforts include major investment programmes and partnerships to assist the sector in addressing some of the challenges that prevent the growth and development of the ICT sector. With the arrival of landed gateway cables into Nigeria, the radical innovation is contributing to improving ICT infrastructure and bridging the digital divide.
The 14,000-km fibre-optic submarine cable, named the West African Cable System (WACS), has a capacity of 5.12 terabytes per second (TBps), and began service earlier this year.
With promises of growth and development throughout the ICT sector in West Africa, Nigeria appears to be spearheading the growth as the latest state of the internet report was released. The recent report showed that Nigeria has overtaken South Africa in terms of Internet speed in less than eleven years after reforming its communications networks and market. The report also revealed that Nigeria has an average connection speed of 322kbps with a peak rate of 5674kbps; while South Africa's average speed is faster at 496kbps, the country's peak speed is only half that of Nigeria, at 2172kbps.
With strong support from its government and keen interest from major private sector players and the outlook for Nigeria, West African country's ICT sector looks promising. As it continues to grow, there will be significant investment opportunities in the areas of infrastructural development, research and training, as well as cyber-security.
Nigeria boasted over 125 million total connected lines before the end of the last quarter in 2011 with its contribution to making the country one of the fastest growing economies of the world. These significant events included the implementation of SIM card registration by the Nigerian Communications Commission, e-registration by the Independent National Electoral Commission, and the introduction of the mobile money policy by the Central Bank of Nigeria.
The information and communication technologies (ICTs) markets within West Africa are being revolutionised by the rapid adoption of Internet-based services, wireless technologies and the convergence of previously separate ICTs including broadcasting, computing and communication.
The anticipated IT Leaders West Africa Summit will focus on the many challenges currently facing West Africa's ICT industry, preventing enterprises within the region from reaching the international standards of first world nations. The summit will address today's top ICT and operations issues, and technological advancements impacting the enterprise with strategic guidance and actionable tactics. (Source: Cio.Co.Ke)