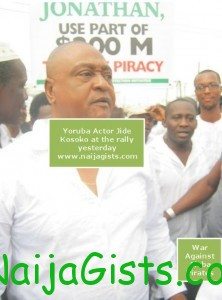 Nollywood protest movie piracy in Nigeria
July 9, 2012 – Fifty Movie Pirates Jailed In Nigeria
Fifty suspected Nigerian movie pirates have been sent to different prisons in Lagos as the Lagos State Films and Video Censors Board (LSFVCB) and Yoruba Video and Films Producers/Marketers Association of Nigeria (YOVIFPMAN) continues with their efforts to stop the activities of pirates in the state.
A statement issued by YOVIFPMAN stated that some of the arrested pirates have been sent to Kirikiri, Badagry and Ikoyi prisons, while others are still awaiting trial.
The National President of the association, Alhaji Toyin Usman of Toymax Films and Holdings, told reporters that the suspected pirates were arrested in different locations in Lagos such as Mushin, Alaba, Isolo and Shomolu among others.
"We need to specially thank Governor Babatunde Fashola and the Otunba Dapo Awobotu-led Lagos State Films and Video Censors Board for their support in fighting those people feasting on our intellectual property," Usman said.
The Chairman, YOVIFPMAN's Policy and Strategy Committee, Comrade Femi Jolayemi also said:  "We have also looked inwards and have made some new policies that will make it easier for us to combat the activities of movie pirates effectively.
"One of the steps is that unlike before when we release about 80 films every month, it will now be a maximum of 40, and no movie will be released with four-in-one disc any longer. We will also stop the barrage of promos we run in our movies. In every movie henceforth, there should be not more than six minutes promo.
"The Lagos State Film and Video Censors Board and Environmental Sanitation task force have also promised to arrest pirates hawking movies.