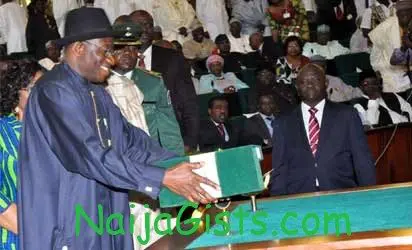 Feb 27, 2013 – Nigerian Budget 2013 Signed By President Goodluck Jonathan
Senate yesterday formally dismissed reports of a face-off with the Presidency on the 2013 budget just as the chamber rejected insinuations of perceived differences. The nation's upper legislative chamber was emphatic that it would not override President Goodluck Jonathan's veto as there was no need for it. On Monday, Chairman of the Senate Committee on States and Local Government Administration, Kabiru Ibrahim Gaya, noted that the Senate would, this week, take a decision on the budget.
Senate Spokesman, Enyinnaya Abaribe told newsmen that with all issues on the budget having been "sufficiently resolved," lawmakers expect the president to sign the 2013 Appropriation Bill soon. "All the issues that have come out on this budget have been resolved and we think that in the shortest possible time, the budget would be signed by the President and implementation will begin. So, there is nothing like overriding any veto or any such thing. That is not what the Senate has resolved in any way," he said. Abaribe, however, reiterated that constituency projects of lawmakers were not responsible for the delay on the presidential assent on the 2013 budget and its implementation.
"For those who are not aware, there is always a specific amount of money (allocated for constituency projects) and that does not equate to padding. What we do with the constituency project is that there is a specific fund kept aside so that members of National Assembly can also bring projects to their various constituencies. "When there is announcement that people should bring their projects, it is also within a particular volume of fund and it is expended by the various ministries. So, I don't think that whatever problem they had with the budget had anything to do with constituency projects.
"Maybe we have to address this matter in a much more elaborate manner so that Nigerians are appraised of what is going on here. There is the tendency to think that when you mention constituency projects, that Senators or members of House of Representatives in any way are giving funds to spend. But do you know that it is not true? "All the constituency projects that have been done in my constituency, I do not know who the contractors are. And I want Nigerians to know that there is no person within this National Assembly that has anything to do except to pinpoint locations for the projects," Abaribe said. Senate also refuted reports that federal lawmakers jacked up figures presented to it in October 2012, adding that the power to appropriate lies with the National Assembly and that it was that power granted them by the Constitution that was employed in looking at every detail in 2013 Appropriation Bill as presented by the Executive.
"Let me tell you, let us not just go and start seeking problems where there is no problem. Let me also say this, which you ought to know, there is, at the base of this whole imbroglio, a philosophical question and that question relates to whether the budget made by the Executive and brought to the National Assembly should be returned to the Executive without tampering? "If we do that, then, the National Assembly has no role, but if it has a role, the role is not to pass anything that is given to it without looking at the very different details. "There is now this philosophical question of who is in charge of appropriation and the National Assembly says that under the law of Nigeria and under this Constitution that we operate, appropriation power lies with the National Assembly.
"In other words, what the Executive brings is a proposal and it is up to the National Assembly to accept the proposal or modify it in some way and when that happens, necessarily, there must be differences, when you have those differences, that is what have caused us to have meetings for resolution of those differences and when they are resolved, we just move on. There is no need to think that somebody is holding a sword over the other and that is what I am saying very clearly and categorically that there is no problem but you want to insist that there is a problem", he stated. In a related development, Abaribe said the Senate will scrutinize the N4.5 billion allocated for the construction of the First Ladies Peace Mission House embedded in the 2013 budget of the Federal Capital Territory Administration (FCTA). He said that the Senate will wait for its FCT Committee to bring back the report on the budget and at the Third Reading, will take a decision on the matter.
[Source: Daily Sun]