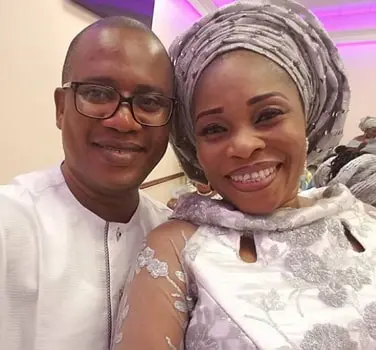 Tope & Soji Alabi Biography & Net Worth: Albums List,  Life History and Profile of Gospel Singer and Husband
Tope Alabi is a famous Nigerian Gospel singer, actress and music composer. She is the voice behind the soundtracks in most Yoruba movies in Nollywood and she is arguably the most prominent gospel artiste in Nigeria. On a less professional side, she's a good role model, who practices what she preaches; as a moral singer, mother and most importantly, a good and obedient wife. Stay close, as we take you through the life of this exceptional singer and her husband.
Tope Alabi Biography
 The famous gospel singer was born on October 27, 1970 in Lagos, Nigeria. She was born and raised in a family of five, which include her father, Elder Obayomi Akinyele Joseph; her mother, Mrs Obayomi Agnes Kehinde; and her two siblings (brothers). Her father is a Yoruba man from Ogun state.
While Tope Alabi was in secondary school, she developed a deep interest in drama and music. This inspired her to join a local comedy group known as Jesters International, where she acquired her preliminary training and experience in drama. Upon her graduation from high school, in 1986, she got admitted into The Polytechnic Ibadan, Oyo State, where she studied Mass Communications and duly obtained her HND in 1990.
After her graduation, she secured a job almost immediately. She worked for a year, as a correspondent, with NTA Ibadan and for another year with an advertising firm in Lagos. In 1994, Tope Alabi, returned to her calling and subsequently joined a then prominent theatre group, Alade Aromire Theatre Group. While with this group, she honed her talent in acting and discovered her forte in music. She went on to develop soundtracks for the theatre group. This shot her to prominence and she has went on to compose about four hundred (400) soundtracks for hundreds of Yoruba movies.
In 2001, Tope Alabi released her first studio album, Ore ti o common. Today, she has released 14 studio albums. During one of her recordings, she came across her life partner, Soji Alabi, and their union has been one of the most celebrated ever since.
Tope Alabi Albums
Below is a compilation of Tope Alabi albums, from 2001 to date.
2018 – Yes & Amen
2017 – Omo Jesu
2015 – Oruko Tuntun
2013 – Agbelebu
2012 – Alagbara
2011 – Agbelebu
2011 – Moriya'nu
2010 – Kabiosi
2008 – Kokoro Igbala
2007 – Angeli Mi
2006 – Agbara Olorun
2005 – Agbara Re Ni
2003 – Iwe Eri
2001 – Ore ti o Common
Who is Tope Alabi Husband?
 The popular gospel singer is happily married to Soji Alabi, a studio engineer and music producer. Tope Alabi met her husband, Soji, in 1994, during one of her visits to a recording studio in Ikeja Lagos, where Soji was working as a studio engineer. According to the gospel singer, they were mere acquaintances and close associates until Soji proposed to her four years later, in 1998, and they eventually got married the same year.
In an interview, Tope Alabi pointed out that, she never thought she would get married to a man like Soji, given his extremely calm and collected (shy) attitude. At that time, she referred to herself as a big girl and Soji was completely the opposite of her 'ideal man'. However, as God would have it, her mindset changed and she eventually accepted his proposal when it came calling. She described her decision to marry Soji Alabi as the best in her life. He inspired her choice of music and she is arguably the best in Nigeria now.
Today, Soji Alabi is not only Tope's husband but also her career manager and producer. He has been the brain behind the beats and sounds of all Tope Alabi songs and film soundtracks, right from when she released her debut album in 2001 to date.
Tope Alabi Daughters
 The famous singer has two daughters with her husband. The first daughter is known as Ayomikun Alabi, while the younger daughter goes by the name, Deborah Alabi.
Ayomikun, the eldest daughter, is currently a student of Bowen University in Osun state, where she's studying Music. While her mother wanted her to become a Medical Doctor, she has chosen to follow her famous mother's footprints and become a musician. Ayomikun Alabi's younger sister, Deborah, who is 15 years old, is reportedly still in secondary school.
How Old Is Tope Alabi Husband
 The age of the famous singer's husband, Soji Alabi, is not known to the public. However, credible estimates has indicated that, Soji Alabi is in his 50s. While his actual age (birth year) remains unknown, his birth day and month are known. He was born on April 10, some time in the 1960s.
Earlier this year, on 10th April, 2018, the famous actress took to her Instagram page, to celebrate her husband's birthday and also urged her followers to do the same; a request many gladly obliged to.
Tope Alabi Children
 Tope Alabi and Soji Alabi's marriage has, so far, produced three children (two daughters and a son). However, an unconfirmed report surfaced some time ago, alleging that, the famous gospel singer gave birth to her first child outside wedlock, before meeting her husband. The report further indicated that, she gave birth to the child in 1994, when she was 24 years old. This claim, however, remains unverified till today; hence, the credibility of such information remains in doubt.
Tope Alabi Family Pictures
 The singer is not one who shies away from showing off her husband and children. Her family is one happy family.
Below are some of the captured happy moments of Tope Alabi, her husband and their children.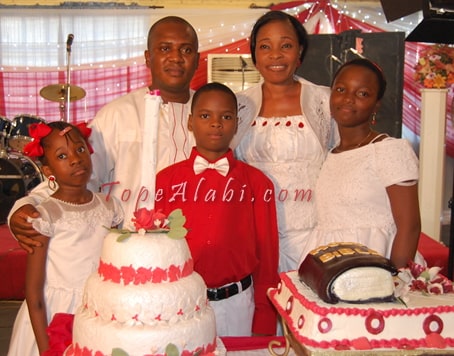 Tope Alabi House
 About a year ago, on 28th December, 2017, Tope Alabi and her family moved into their new house. The house/mansion, which was built on 2 plots of land, is located in Fagba, a less populated region in Iju, Lagos. It was reported that, she has always been a resident in the area and she loves the tranquility and peaceful coexistence, which prevail in the area, compared to other regions in Lagos.
The multimillion naira project was started in 2015 and it took two years to complete. The house warming and dedication ceremony was held on December 28, 2017 and it was graced by the singer's family, friends, church members and well wishers.
Tope Alabi's Net Worth
The popular gospel singer reportedly worth $300,000.