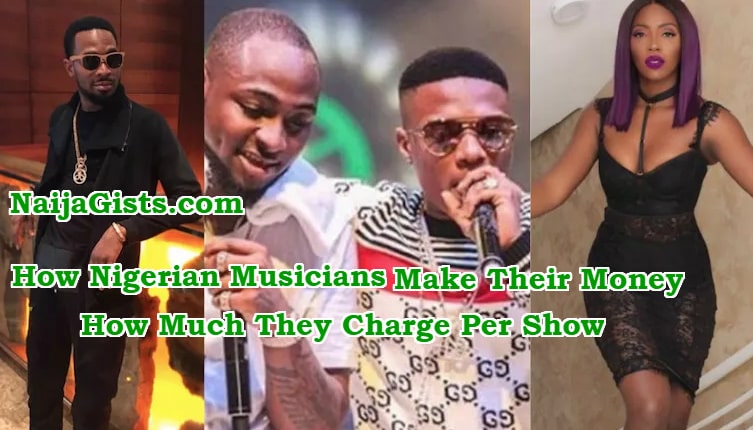 How To Become A Musician, Start Music Career In Nigeria & Make It In Nigerian Music Industry (2019 Guide)
Nigeria is filled with talents across several walks of life; in sports, literature, and of course, entertainment. Of these, sports and entertainment appear to stand out, and for some reasons, entertainment seems to be the most lucrative, especially music production. As a result of the lucrativeness of the music industry, many young individuals have become highly ambitious about becoming the next music star. In this article, we have compiled some simple, yet comprehensive, steps on how to start a music career and make it in the Nigerian music industry.
Read Also How Musicians Make Money From Their Music In Nigeria.
How To Start A Music Career in Nigeria & Make it in Nigeria Music Industry
 1) Do I Have What it Takes?
This question is actually the preliminary and most important step in your quest for glory. Providing an accurate answer to this question will determine your success or failure in the long run.
Music, just like other profession, requires a certain level of innate capability (latent or overt), which can then be honed with the appropriate skill set and equipment. Many people going into music often fail to realize this; hence, their unfortunate failure. Bottom line is, "without a solid foundation (talent), you are bound for failure". That is the harsh reality!
As a young individual who is seeking to pursue a career in music, you need to look inward and discover yourself. A deep reflection and of course, practice should reveal to you, if truly you have the talent to go all the way. Make no mistake, all you need is a tad of indicator; showing you have what it takes to become a successful musician. This is because, "even the rawest of talents, with adequate training, can become the best", in any profession. In simpler terms, "the most talented is not always the best, but talent will certainly make you one of the best".
Furthermore, it is important to point out that, there are different categories (genres) of music, which means there are varying requirements for each genre. A R&B/Blues singer requires different skill set, equipment and talent compared to a reggae artiste. The same goes for other genres of music. However, Nigerian is basically home to Afro-pop and Rap music. Hence, we tend to have more artistes in these categories. So, you, as an intending music artiste, need to discover your preferred genre, in line with your talent and skill set, and build on it. If you do it right and you do it well, the sky will not be your limit; it will be your stepping stone!
How To Promote A Song In The Nigerian Music Industry
2) Write & Record A Song
Well, as the saying goes; "nothing good comes easy, and definitely not free".  The next big step after discovering your talent is to record a song. The first song is usually very important, as it will go a long way in pointing out your flaws and strong points. Thus, take your time to make it worthwhile.
Basically, you will need to write a song before hitting the studio to record it. This means you need to have basic writing skill or you can hire the service of a writer. However, for a relatively new artiste, it is better you write your first song yourself.
Writing of songs is no easy task. It involves putting down your thoughts in print (making your thoughts visible). To do this, you can follow the simple steps outlined below.
Take a deep thought (meditate) on a brief story line or an illustration of what you want to sing about.
Pick a catchy song title; preferably a phrase of 2 to 3 words.
Make a rough written description of your song's story line.
Pick a chorus.
Organize your song's structure. For instance: "1st verse – Chorus – 2nd Verse – Chorus – 3rd verse – Chorus".
Readjust the whole content by connecting the melody and adjusting the rhythms.
Review the whole content two or three more times.
Get an unbiased set of eyes on your written song (now lyrics).
If positive, get another person to review it.
Once you've followed the above outlined steps, you can proceed to a standard recording studio and seek out the service of a sound engineer or music producer.
While in the studio, check out pre-recorded beats and songs, as recommended by the music producer, and pick out one or two that best suit your genre and style. Once this is set, proceed to record your song.
Note: After recording your first song, don't relent; start writing the lyrics for your second song, and let the trend continue.
3) Connect, Connect & Connect
After recording your first song, you need to get it into the right hands. This is often the toughest part and most times, you need sheer luck to pull through.
First and foremost, you can share your new song with friends and families. More significantly, you can adopt the following methods to get your new song out there:
Upload Your Song on Nigerian Video Sharing Sites & Social Media
Social media has taken over communications in the 21st century. As an aspiring music artiste, you need a strong social media presence. You can follow the steps below to expose your song to a large audience, via social media.
Upload your song on media sites like: YouTube, Naijaloaded, Nairaland, iTunes and SoundCloud among others. To upload a song on some of these sites, at times, requires a token.
Promote your song on social media (Facebook, Twitter, Instagram or even WhatsApp). This can be done simply by posting the link(s) to your song on these sites.
Post extracts on Social Media and attach links (to the full song).
Perform at Nigerian Local Shows & Events
Is there a nightclub in your neighbourhood or any crowd-pulling event like carnival, community festivals and the likes? If yes, then meet the organizers of such events and offer your service at a relatively affordable price or outrightly free of charge.
Performing at such events would, no doubt, improve your profile and street cred. More importantly, your song would be exposed, and you never can tell who is listening (could be your ultimate helper).
Also, your performance at such events would determine your appearance in subsequent programmes. In fact, it could earn you recommendations for bigger (paid) shows.
Contact Nigerian Music Record Labels & Their Owners
This is an unconventional method, which has worked for many top Nigerian artistes today. Let us look at two prominent instances:
"Mayorkun, fondly called the Mayor of Lagos, reportedly met Davido on Twitter and the rest is history. Another notable instance is the case of Reekado Banks, who also reportedly met Don Jazzy on Twitter."
With respect to the aforementioned, there are different ways you can reach out to some of these record labels and showcase your talent. Some of these have been outlined below.
You can deliver your song physically to various record label houses/studios in Lagos. Record labels like YBNL Nation, DMW, Mavin Records are known to accept and review songs delivered via this channel.
Send an email (with an attached MP3 file of your song) to Nigerian record labels' corporate or management email addresses.
Reach out (and solicit assistance) to renowned record label CEOs on Social Media. This has worked for many artistes and you could be next.
The likes of Olamide (YBNL Nation), Davido (DMW), Wizkid (Star Boy), Don Jazzy (Mavin Records), M.I (Chocolate City) and others are all active on Twitter and Instagram; hence, you can easily reach out to any (or all) of them.
4) Audition For Nigerian Musical Concerts & Contests
Another interesting way of promoting yourself is by signing up for musical contests/shows within the country. Prominent talent discovery programmes like MTN Project Fame, Nigeria's Got Talent and more have produced some artistes, who are making waves in the music industry today. The likes of Chidinma Ekile and Iyanya are products of MTN Project Fame. Dream big, you can be next!
Below is a list of some top music talent shows you can audition for in 2018/2019.
MTN Project Fame
Nigerian Idol
Freestyle Unplugged
X-Factor
Star Quest
Nigeria's Got Talent
Destiny Child (Gospel Music)
Most of the above outlined music talent shows are annual events; so you have the opportunity of auditioning for any (or all) of them every year, until you get it right.
More often than not, many of these talent shows give out cash prizes to the winners and runner-ups. However, the more significant reward is the exposure that accompanies such shows. In essence, by performing outstandingly well in any of these nationwide music contests, you have practically launched your music career.
5) Signing A Record Label Contract
 One of the greatest mistakes, commonly made by young upcoming artistes is accepting "slavery" contracts from talent "poachers", who have dominated the Nigerian music industry. We've heard many cases of brutal separations of some top Nigerian artistes from their record labels. Typical examples in this case are Kizz Daniel and Runtown.
"Earlier this year, it was widely reported that, Kizz Daniel was having serious contractual disagreement with his record label, G-WorldWide. It was widely rumoured that, Kizz Daniel, was being paid a token of #30,000 per month (minus bonuses and sponsorships) by G-WorldWide's management. This, as gathered, was what eventually resulted in the separation of the two parties."
The above instance was aimed at making you, an upcoming/aspiring artiste, understand contractual obligations and how it could make or mar you. That said, you should get a lawyer and a relative to thoroughly review a contract before putting pen to paper. Doing this right will guarantee your sustained growth and eventual success in the Nigerian music industry.
Contracts between music management teams, record labels and upcoming artistes often serve as the thin line between a successful career and an unsuccessful one, especially in the Nigerian music industry. Many highly talented Nigerian artistes have been restricted (financially and career-growth wise) by unfavourable contractual deals and sponsorship. Most of them were blinded by the initial money on offer, without taking into consideration their growth prospects and future plans. Many of these artistes end up frustatated in the end. Do no fall victim!
Conclusion
The Nigerian music arena is not an easy place to break into. However, with the appropriate skill set, talent, exposure, connection and a bit of luck, you are only a few steps from becoming one of the Starboys, Olamides and Davidos in the music industry.
Frequently Asked Questions About The Nigerian Music Industry
how to sell music online in Nigeria
how to make it in Nigeria music industry
how to make money with my music in Nigeria
how to promote a song in the Nigerian music industry
Best of Luck!!!.