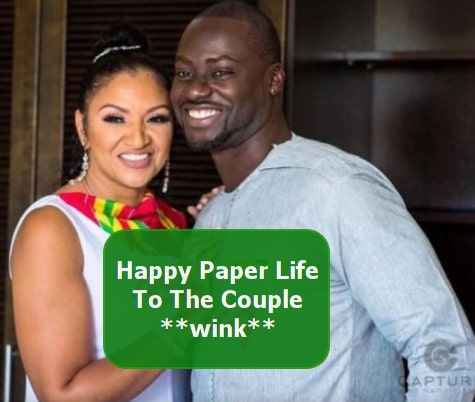 Ghanaian Actor Chris Attoh Biography & Net Worth: Family History, Wife, Place Of Birth, Life Facts Of Top Tinsel Actor
It is impossible to compile a list of Ghana's entertainment legends without including the name of the famous actor, on-air personality and MC Chris Attoh. This multi-talented individual is one of the very few that have managed to break boundaries through their works both onscreen and offscreen and has been a reputable representation of Ghana on the local and international level.
Chris Attoh is an exemplary individual who has managed to build a strong name and foundation in the entertainment industry as a whole. Not only is he an actor, a fact which any of his fans are only aware of. But he is also one of the best on-air personalities to come out of Ghana, a producer, and to complement this exceptional skills; he is an amazing Master of Ceremonies (MC).
His exceptional skill, talents, and hard work have made him one of the household names in not only in Ghana, but also Nigeria's Nollywood and the whole African continent as a whole. Being one of the most good-looking actors in the industry, Chris Attoh has had his fair share of romantic relationships which was however short lived.
Nonetheless, Chris Attoh is one that has made our TV time memorable. He has made an impact on his fans and colleague as well, through his roles and charitable acts. His exceptional works have kept his name rolling on the tongues of his fans for years. Chris Attoh is an amazing personality that his fans, colleagues and the general public are lucky to have had him grace their screens. It is certain he has more up his sleeves, and this is something we are all looking forward to.
Chris Attoh Childhood & Early Life
Over the years Chris Attoh is one that has done his best to keep his personal life away from the public view. There is little or no information about his childhood days and immediate family and the reason for the actor's decision is not clear.
He was born on the 17th of May 1979 to Ghanaian parents. The names of his parents and sibling remain unknown till date except that of his elder brother, who is one of the prominent acts in the entertainment industry. His brother's name is Ken Attoh, and he is famous for his directorial roles in several blockbuster movies.
The actor had his basic education at the Achimota School, a reputable school in Ghana and famous for having produced several prominent individuals in the society such as the former President of Ghana, John Damiani Mahatma, and the reputable Kwame Nkrumah. The actors stay at the school was a successful one, and he subsequently went ahead in following years to further his education.
After his basic education, Chris Attoh proceeded to Accra Academy where he had his secondary education. After the actor had completed his fundamental education, he enrolled at the Kwame Nkrumah University of Science and Technology (KNUST) where he developed an interest for the TV life and entertainment industry.
Chris Attoh Career, Awards & Networth
Over the years, Chris Attoh has managed to build an awe of skills that have helped him propel to the top in his career and stand out among his peers. The profession for which he is most famous for is acting. The actor since his break into the local Ghanian movie industry Ghallywood and Nigeria's Nollywood has featured alongside many of the biggest A-list stars such as Yvonne Nelson, Majid Michel, and Nigeria's Jim Iyke just to mention a few.
He played major roles in many prominent movies such as the Banana Island Ghost, Flower Girl and his most prominent work which is a popular TV series, Tinsel. Tinsel is a Nigerian series that started broadcast in 2008 and has earned the status of being one of the most aired TV shows all over Africa. The series helped boost Chris Attoh's career significantly and was the place he met his ex-wife, famous actress Damilola Adegbite.
Apart from acting Chris Attoh also has many other exceptional talents up his sleeves as he is an on-air personality. His voice has come to be a fan favorite over the years with him having worked with reputable broadcasting corporations all over Ghana. Chris Attoh is also a Master of Ceremonies (MC) earning a huge chunk from this profession. This career path was believed to have been boosted by his involvement in the debut edition of popular African Reality Show 'Big Brother' where he appeared as a guest speaker.
The multi-talented actor is also regarded as a savvy business man as he is believed to have many personal investments which all contribute to his wealth and fortune. Christ Attoh is the CEO of A Factory Limited, a private organization located in his home country Ghana. Having managed to build such a wonderful business empire over the years, the actor believes in giving back to the society and can, therefore, be classified as a philanthropist. He is most interested in helping a new generation of individuals develop their careers, especially in the entertainment industry.
He is one of Ghana's greatest, representing the country well on both the local and international scene. His exceptional works, high social status, and several business investments have earned Chris Attoh an estimated net worth of $1.0 million.
Chris Attoh Family Life & Relationships
Much is not known about the actors immediate family members as he has managed to keep his personal relationships under wraps over the years. His older brother, however, is well known in Ghana and several parts of Africa as he is one of the most prominent directors in the country. His name is Ken Attoh.
Ken Attoh like his brother has done well to build a reputable career in Ghana's movie industry, being one of the top directors and movie producers in the country. He is currently the CEO of Sparrow Productions, one of the largest production companies in Ghana. The company is however owned by his wife, Shirley Frimpong Manso. Apart from his elder brother, Ken Attoh, none of Chris Attoh's other immediate family member are known to the public.
Chris Attoh was once married to a colleague, Damilola Adegbite who is a Nigerian actress, model, and TV personality. It is believed the couple met on the set of popular TV series Tinsel, and they subsequently fell in love. The couple got engaged in August 2014 and eventually tied the knot the following year. The couple is blessed with a son named Brian Ayittey Olaferanmi Attoh, who was born in the 5th of September 2014, a few months before their wedding.
Everything seemed to be going well as the couple was fond of uploading intimate pictures of one another on their social media page until the relationship hit rocks two years after their wedding in 2017. There were several rumors that Chris Attoh and Damilola Adegbite were going through tough times and their marriage was on the brink of collapsing.
This was confirmed when both individuals deleted each other's pictures on their social media accounts, with Damilola Adegbite removing the 'Attoh' last name from her profile. There were different reasons with both sides blaming each other for the collapse of their marriage. Chris Attoh claimed that his wife, Damilola, was not submissive enough to him and didn't respect his wishes. Damilola on her side claimed that Chris Attoh betrayed her trust, hinting at infidelity.
The public is still unaware of the real reason behind their divorce which was finally settled in 2017 as both sides have avoided topics on it. They seem to have moved on and are still friends for the sake of their son, Brian. The actor recently wished his ex-wife a happy birthday and thanked her for being an amazing mother to their child.
Chris Attoh Latest News
The actor who is always conservative in the things he discloses shared a lot about his plans and responsibilities when he was invited for an interview with one of the leading online News agency in Nigeria, BellaNaija last year.
When asked about how he and his wife and coping with work and parenting their child, the actor was quick to laud his wife for being such an amazing mother and a great actress. Chris Attoh claims he is a very busy man as well as his wife, and they often rely on their immediate family to step in for their son when they are both busy. He claimed that himself and ex-wife Damilola Adegbite have moved on and are more interested in remaining as good friends, especially for the sake of their son.
The multi-talented actor also claimed he has a lot on his plates, especially now that he is responsible for a totally different individual, which is his son Brian. Chris Attoh is currently working on different projects on the local and international scene. Some of his recent blockbuster movies are Potato Potahto, Esohe, and Inline just to mention a few. He is also one of the major acts in Mo Abudu's 'Fifty' series, a role the actor considers as an amazing privilege.
On the international scene, Chris Attoh seems to be doing well and has been a significant part of some successful Hollywood projects. The most significant of them which he was happy to share during his interview was that of his role in the movie 'An Accidental Zombie Named Ted'. The actor was quite happy to share the news and stated that he auditioned for the film four years ago before being contacted and eventually offered a role.
Christ Attoh is also the brand ambassador to several public and private organizations in Ghana, a feat he has been able to achieve through his exceptional works over the years. Like many of his colleagues, the actor believes in giving back to the society that made him and so has a foundation to his name. Although the actor was unwilling to disclose information on the philanthropic works he eventually gave in after much persuasion. He stated that the foundation's name is 'The Kindness Foundation' and it is dedicated to providing an act of kindness, no matter how little, every day to the less privileged in different parts of Ghana.