Hot Gists
Alaafin Of Oyo Orders Residents To Shun Visitors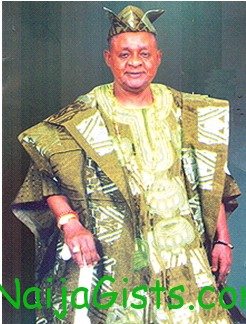 August 13, 2012 – Alaafin Of Oyo Orders Residents To Shun Visitors
Alaafin of Oyo, Oba Lamidi Adeyemi, said on weekend that he had sent his king-makers, Oyomesi, to all towns and villages under his jurisdiction to educate farmers not to harbour foreigners owing to the insecurity in the country.
He said this in his palace during a courtesy visit by the Controller, Oyo State Command of the Nigerian Immigration Service, NIS, Mr.  Joseph Olaitan.
The monarch said: "We in Oyo have condemned child-trafficking and the employment of foreigners as housemaids because of the menace constituted to our people.  Our people  are either killed or had their belongings stolen, while the foreigners run away."
He told the state immigration boss; "Before your arrival, I have ordered the 'Oyomesi' to go round the villages to educate the farmers not to harbour foreigners and I want to urge all the local government chairmen in the state to include security agents expenditure in their yearly budgets to be able to render quality assistance to the various agencies."
He noted that the old Oyo Empire which existed for over 600 years lasted long because it maintained peace and security.
He promised to work with the Immigration Service to identify all illegal immigrants within his domain.
Earlier, Olaitan acknowledged the monarch's supportive role for his agency.