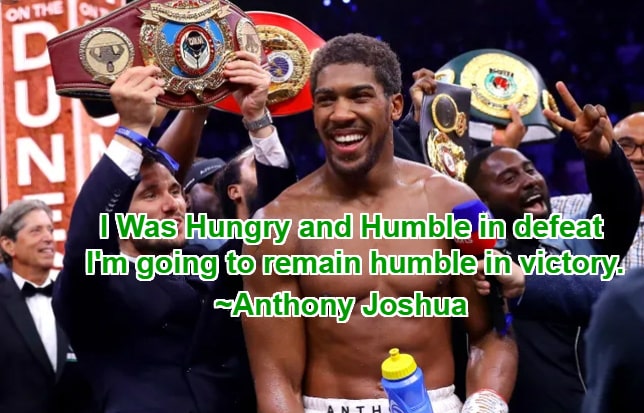 Anthony Joshua Inspirational Victory Speech, Quotes & Video
Check out Anthony Joshua's motivational Victory Speech.
In the 3:20 long video, the boxer praised his opponent and also gave glory to God for the victory.
Here are some quotes from his short victory speech
The sweet side of boxing is about hitting and not getting hit.
I Was Hungry and Humble in defeat and I'm going to remain humble in victory.
Career is all about experience it is not about winning or losing.
Check out more powerful words of inspiration by Anthony Joshua below
1. "Just set yourself a goal and try and stick to it. Because you'll always end up better than where you started."

2. "Sleeping is like meditation: it's good to rest the body but also to shut the mind down for a bit."
3. "As long as you have discipline, you can be a success. Discipline is what makes you do everything you need to do."

4. "Whether you sit on the bike for half an hour or throw on two jumpers and just sweat, it's good to get up, get the body active, put on your headphones, and just pedal away."
5. "For me to have a cheeky little biscuit, it's not going to hurt. But I need to control those indulgences. I can't just be scoffing cakes and biscuits five nights a week."

6. "There are two types of warriors: the one that rides through on his horse and tries to slay everyone, and the sniper. I try to be more like the sniper. Bang. Bang. Bang. Break them down, shot by shot."
7. "From the neck up is where you win or lose the battle. It's the art of war. You have to lock yourself in and strategise your mindset."
Anthony Joshua on a council estate

8. "Don't worry about the title. Worry about what you've got to do today, tomorrow, the next day, and that title will be waiting for you."
Anthony Joshua looking confident

9. "When you are around people who have money, you realise money isn't that impressive, it's about your class, morals and how you conduct yourself."
Anthony Joshua walking

10. "You have to speak from a place where all is possible. When you speak from a place where there's limits, you've already set yourself up to fail."