Columns
Anyone Practising Gay is Not Created Gay – Homosexuality is a Choice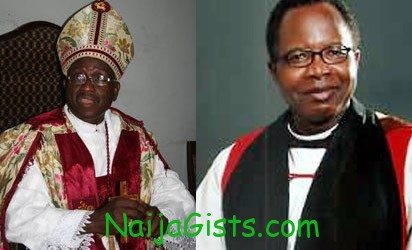 Prelate Makinde and Arch. Ademowo
Dec 3rd, 2011 – Anyone Practising Gay is Not Created Gay – Homosexuality is a Choice
The criminal code of Nigeria's Constitution, says anyone who practises homosexuality should be sentenced to 14 years imprisonment. Anyone practising gay is not created gay. It is a choice.
The Bible is very rich because it commanded that such an individual should be stoned to death in the Mosaic law and that was what the Shariah law followed. It is morally wrong, it is something, anyone who practises it cannot make public. Those who did it in those days did not allow anyone to see them because he or she would be killed. naijagists.com
Therefore, the stand of the Bible Society of Nigeria on this is that, it is naturally illegal, it is nationally criminalised and spiritually uncondolable because it is like condoling lawlessness. So, there is need for everybody to shout it out that gay, lesbianism, and such practices are just the beginning of destroying of the fabric of our heritage.
It is not our heritage. If you don't want to marry, don't marry. If you are a man, marry your opposite sex. It is morally wrong, criminalised in the Nigerian legal system, in the criminal code and every code of the country. It is spiritually unpardonable.
That was why God destroyed Sodom and Gomorrah with fire and brimstone. We are custodians of the Bible, the word of God. Let nobody say that he was created with these vices. God loves sinners but hates sin. We call such people to deliverance. naijagists.com
There is no way they can continue in such sins and want brethren to accept them as fellow believers. No sinner is part of God's kingdom. Here in Nigeria, we cannot, will not, must not allow this decadence to see the light of day. We have enough sins and we are asking God to forgive us and renew us rather than, adding to these vices.
The church is satanic – CAN Scribe
Secretary General of Christian Association of Nigeria, CAN, Engr. Samuel Salifi said: The church in question can only be satanic and when I say it is satanic, it simply means that Satan is working through those individuals and they know that their deeds are evil.
Most of them purported to be doing what they profess as gay practice in the name of a church know for a fact that they are doing a wrong thing. Otherwise, why are they hiding their practises? Why are they frisking people who want to attend their services? Sodomy is in the Holy Bible and we are told that God punished them for it.
Why should anyone in his right sense want to import such unholy practice into Nigeria? What do they stand to gain, knowing fully well that what they are doing is sin against God. naijagists.com
It's a cult – Archbishop Ademowo
Anglican Archbishop Ademowo of Ecclesiastics Council of Lagos and the Bishop of Lagos, Most Rev. Ephrahim Adebola Ademowo expressed shock over the description of the place as a church because according to him, a church is an assembly of godly people who are spirit filled and who congregate to worship the Almighty God.
So, if there is any place where God is not glorified, such a place cannot be described as a Church. At best you, can describe such a place as a cult. "A Church as far as you and I know, is a place where everybody is free to go and worship God without hindrance."
Christians will move against them – Makinde
Prelate Methodist Church Nigeria, His Eminence Sunday Ola Makinde, simply described the act as a abomination. According to him, "it is a disgrace to the Anglican primate, Most Rev. Peter Jasper Akinola as someone who has been fighting against the unholy practise in the Western world.
"It is a shame that such a thing can rear its ugly head in Nigerian stories. But I am happy at one thing and that is that by the latest report, they are now ashamed of themselves and have gone under.
That kind of madness cannot and will not be allowed to thrive here in Nigeria. That place cannot be described as a church and you can be sure that it cannot be registered by the Corporate Affairs Commission, CAC, because they are not Christians as they claim. They Bible is clear on those who profess to be disciples of Christ.