President Jonathan Compares Kidnapped Chibok School Girls To Missing Malaysian Airplane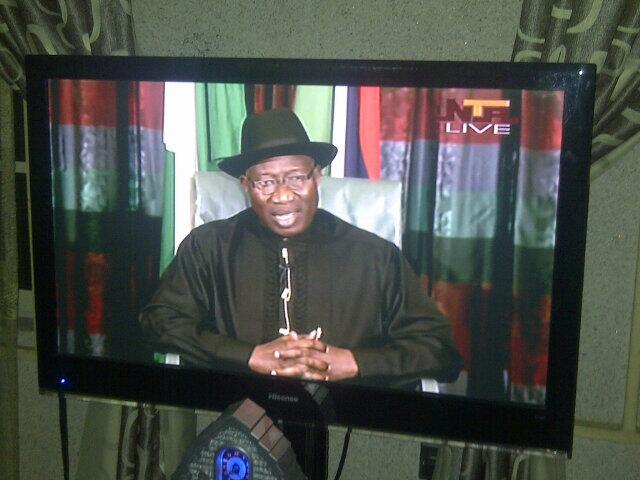 May 4, 2014 – President Jonathan Compares Abducted Chibok School Girls To Missing Malaysian Airplane
During the Presidential media chat tonight, Nigerian President responded to a lot of current national issues.
GEJ seems not too bothered by the case of the missing school girls. He even compared them to the missing Malaysian airplane.
Read what Jonathan said on the Missing schoolgirls:
"On the list that I saw, 80% of the kidnapped girls in Chibok are Christians. We have requested for assistance from the US, but I can't go into details. We can't negotiate with somebody you don't know; nobody has claimed responsibility for abduction.
We promise we will find the Chibok girls. We need every information, their pictures, names and any other details that we can get to put this incident behind us. We are trying our best and appreciate the concern of Nigerians over the situation in the country. Even the missing Malaysian Aircraft the world is yet to find it, so we are not alone"
Check out his other responses:
On his re-election, GEJ said:
My declaration for 2015 should not be a problem for Nigeria, but how we manage the economy. PDP is the champion. We need to know the challenger before we declare our candidate for 2015
On the state of corruption in Nigeria, GEJ said:
The word corruption is now being overused. There is difference between corruption and common stealing. If anybody steals $20bn today, America will know and tell you where the money is, because $20bn is a lot of money. More than 70 % of the cases called corruption are stealing which can be easily investigated.
On his approach to issues, he said:
People say I am too gentle, that is not true. If I should exercise 50% of my powers, I will be described as a dictator.
Many Nigerians have expressed their disappointment over the media chat.
Did you watch the chat, what is your take on Jonathan's response?