Columns
Private Jets Owners In Nigeria 2012: Wealthy Nigerians Invest N1.3 Trillion In Bizjet Acquisition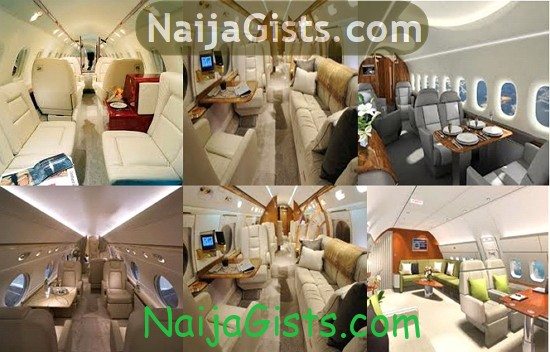 Dec 4, 2012 – Private Jets Owners In Nigeria 2012: Wealthy Nigerians Invest N1.3 Trillion In Bizjet Acquisition
Below is a list of few Nigerians who currently owns a private jet (Private jet owners in Nigeria)
Mike Adenuga
Aliko Dangote
Ifeanyi Uba
Dr Kashim & Sir Aremu Johnson
Pastor Adeboye
Bishop Oyedepo
Pastor Ayo Oritsejafor
Mrs Folorunsho Alakija
Ifeanyi Patrick Ubah
Private jet ownership is Nigeria is rapidly growing with an increment of 150 within 3 years. Nigeria as a nation is abundantly blessed.
In 2009, 50 private jets acquisition were recorded and as at 2012 over 200 private jets have been purchased.
It takes God's help to discover one's potential in this country.
There is no point criticizing any of these wealthy Nigerians .
Instead of complaining, let us pray to God to open our eyes to discover hidden secret of wealth.
Aliko Dangote, the richest man in Nigeria has no formal education.
There are thousands of ways to make money in Nigeria today.
It takes self discovery and the wisdom of God to make it in life.
Report On Private Jet Ownership In Nigeria
Nigerians have invested about N1.3 trillion in the acquisition of private jets in the last three years, according to the Nigerian Institution of Estate Surveyors and Valuers (NIESV). The institute disclosed this in Lagos recently at an international seminar on plants and machinery valuation with focus on aircraft, oil and gas installations. The NIESV said that the number of privately-owned jets in the country has jumped from 50 in the last three years to 200.
The coordinator of the seminar, Paul Osuji, said that because of time constraints and other factors, the number of private jets would continue to be on the increase. He said that the seminar was organized to train their members on plant and machinery valuation, noting that at times, people purchase properties without knowing their real worth. According to him, professionals in Estate Surveying and Valuation are trained to value aircraft before they are paid for and brought into the country.
Osuji said that they have valued most of the private jets that are plying the Nigerian airspace "We are mandated by our profession to constantly train and retrain our members. After the last Dana Airlines crash, a lot of attention had been drawn to the aviation sector. People now want to know the airworthiness of the aircraft they want to pay for or they want to fly in. That is why we organize this seminar and most often, we bring our colleagues from other parts of the world to come and share their knowledge with us.
We are the only profession that is authorized by law to place value on any property .We are professionally trained to value properties and there is a world of difference between assessing a machinery and placing value on it. When the engineers assess a machine, what they are trying to find out is its workability. That has nothing to do with the value of the machine .It is the surveyors and valuers that have the requisite knowledge as well as the expertise to place values on items,"Osuji said.
In his opening remarks, NIESV president, Emeka Eleh, said that it is only by constant training that the members could differentiate themselves from quacks. He said if the members become proficient in their professions, when outsiders deal with them and the quacks, they would have no cause to patronize the quacks.(Source: DailySun)