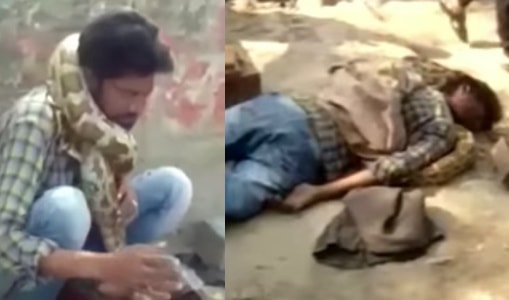 Check out the terrifying moment a snake strangled its owner during a live show in Uttar Pradesh India on Tuesday the 20th of March 2018.
The Indian snake charmer who makes his living by pulling deadly stunts with the python snake was carrying out his daily duty when the snake suddenly strangled him.
The snake charmer who appeared to be in trouble was seen waving to people to come closer  and 30 seconds later, the man became unconscious.
It took the effort of a brave man who intervened by pulling off the snake at the last minute.
At the end of the video, the snake charmer was seen in an unconscious state.
Although he was later rushed to the hospital in Varanasi but his condition is still unknown.
Watch the 1 minute 22 seconds long video below
Snake charmers are common in India, but the reptiles have been known to turn on their handlers.