Hot Gists
15 Nigerian Pilgrims Die In Mecca & Medina, Saudi Arabia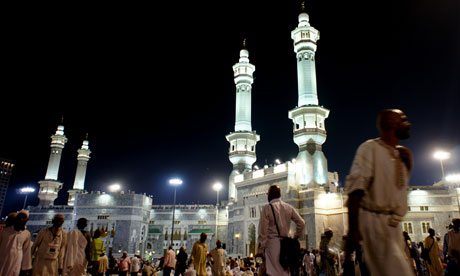 Oct 19, 2012 – 15 Nigerian Pilgrims Die In Mecca & Medina, Saudi Arabia
At least 15 Nigerians on pilgrimate in Saudi Arabia have died in the holy land.
While the National Hajj Commission of Nigeria, NAHCON announced the death of 14 pilgrims, another pilgrim from Lagos State died yesterday, bringing the total to 15 pilgims that have died in Saudi Arabia.
The Lagos pilgrim, Taoreed Oshodi, 62, from Epe Local Government Area of Lagos, Southwest Nigeria, was said to have died on Thursday afternoon.
He took ill and was rushed to the hospital after being attended to by the medical team of the state's pilgrim board.
Oshodi was said to have died of heart attack. He had since been buried according to Islamic rite in Mecca.
Speaking, Dr. Saleh Okenwa, Commissioner in Charge of Information and Research, NAHCON disclosed that 14 pilgrims from Nigeria had died in the course of this year's hajj.
He said at the commission's headquarters in Mecca that nine of the deceased died in Medinah while the remaining five lost their lives in Mecca.
He gave the names of five that died earlier in Mecca as Umar Ruangamyi Dahir and Shuaib Awwal Sarki Malami from Kastina State; and Ganiyu Oke Ayinde from Ogun State.
Others, according to him, are Abdullahi Mudi and Nana Garba from Sokoto State.
Okenwa also disclosed that 82,724 pilgrims from Nigeria have arrived the holy city for the hajj rites.
He absolved the commission of complicity in the diplomatic feud that ensued between Nigeria and Saudi Arabia over the deportation of some female pilgrims.
Meanwhile, the entire 3,899 pilgrims and officials from Lagos State have arrived Mecca and commenced spiritual supplication as expected.
The last batch of 50 pilgrims from Medina arrived Mecca on Wednesday to join others in performing other necessary hajj rites pending the movement to Munna and Arafat next week.
Commissioner for Home Affairs and Culture, Oyinlomo Danmole, who led Lagos pilgrims to Saudi Arabia, however, denied that Lagos pilgrims went on the rampage.
He promised to keep Lagosians updated on the welfare of pilgrims during the entire hajj operation.(pmreports)