Hot Gists
Bayelsa Crashed Helicopter' Pilot Made Several Attempts To Avert The Tragedy – Investigators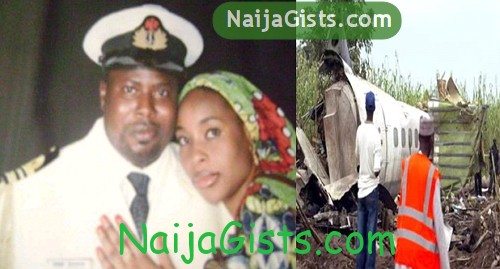 Dec 17, 2012 – Bayelsa Crashed Helicopter' Pilot Made Several Attempts To Avert The Tragedy – Investigators

Detail facts emerged yesterday on the Nigerian Navy Augusta Helo 07 helicopter which crashed in Bayelsa State on Saturday, killing six people on board including Kaduna State Gov. Patrick Yakowa and former National Security Adviser (NSA), Gen. Andrew Azazi. The pilot, Commander Muritala Mohammed Daba, made futile attempts to save the occupants of the helicopter before it crashed and burst into flames.
He was said to have struggled to land the helicopter at a cleared site in the forest, only for the wing of the chopper to hit a palm tree, forcing it to land with its nose and burst into flames. At the crash site on Sunday, there was evidence of pilot's efforts to land, but for the palm tree which aborted the attempt. Daba, who is also from Kaduna State and Lt. Adeyemi Sowole from Ogun State, attached to the Flying unit of the Navy, Warri, were some of the finest officers in the force, according to mourning colleagues.
They described the deceased officers as highly professional and competent, who take their job seriously as they are always available to offer service. The two late officers were sighted last Thursday at the briefing of Operation Seiotu Daupamo of the Central Naval Command which is to commence today. They were in very high spirits and even cracked jokes with the journalists who attended the briefing. Sowole, in an attempt to clarify an issue to journalists, brought out his Ipad to convince them on the point he was making.
The Central Naval Command is already in a mournful mood as the officers and men are still in shock over the death of the duo. Meanwhile, a last minute offer by Governor Henry Seriake Dickson of Bayelsa State to the late Governor Yakowa would have saved his life. According to an aide of the governor, Dickson offered Yakowa a ride to Yenagoa and a possible brief hosting before departing for Kaduna but was told the late governor had a brief speech to give at the occasion before his departure.
"The governor was shocked when he learnt few hours later that their copter had crashed. He was more shocked that they were burnt in the explosion that followed the crash. It is really sad." In his last public speech before his death, Yakowa was full of praises for Jonathan's Special Adviser, Oronto Douglas, describing his (Oronto's) late father as a man that had given birth to a son that has been involved in peace and unifying effort between the North and South. He was also quoted as advising political leaders to live a good life.