Tony Ogunlowo
Bezos Vs Branson: The Race To Be The First Billionaire In Space!
Bezos Vs Branson: The Race To Be The First Billionaire In Space!
Article By Tony Ogunlowo
The race is on for the coveted title of the First Billionaire in Space! In the right-hand corner is Jeff Bezos who hopes to fly into space aboard his Blue Origin's New Shephard rocket on July 20 with his brother and two others. Richard Branson, always one to pull a fast one, hopes to get into space first on July 11 aboard his Virgin Galactic spaceship, VSS Unity.
The announcements have been made and both teams are good to go.
It's the in-thing now: if you're a tech billionaire you have to have your own little pet space program. Elon Musk, in addition to the two aforementioned wannabe astronauts, also has his own space company called SpaceX.
While Musk's SpaceX company has gone on to enjoy spectacular success developing and launching reusable rockets, launching astronauts to the International Space Station with grand plans to land Man on Mars, Musk has got his feet firmly on the ground, for now, working on other projects.
Jeff Bezos and Richard Branson are targeting the sub-orbital market with a view to launching paying passengers in space: up to an altitude of 62.5 miles(100 km), the Kaman Line, where space officially starts.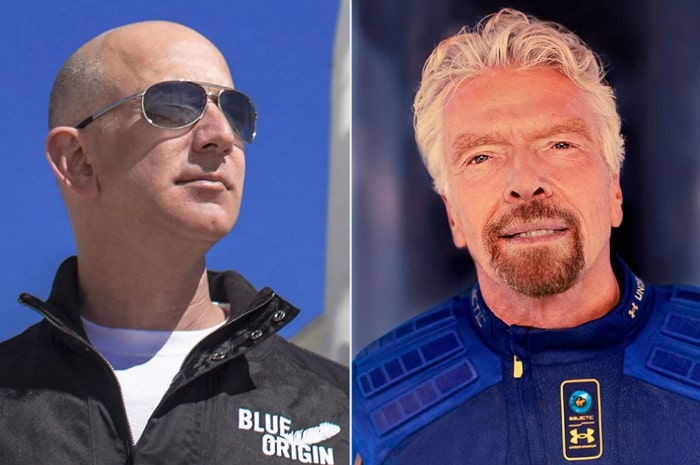 It'll be a brief journey: a high speed climb into space, 3 to 5 minutes of zero-g experience seeing the Earth's curvature and straight back down again.
The tickets for this experience are not going to be cheap with Virgin Galactic quoting $250,000( at least) while Blue Origin is yet to say how much it'll cost.
While Blue Origin and Virgin Galactic are both touting sub-orbital flights the experience will be different. Blue Origin New Shephard rocket will take off vertically and the capsule will land using parachutes while Virgins VSS Unity will fly into space after being dropped from its mothership, the White Knight Two, and afterwards will come back and land like an aeroplane.
Virgins VSS Unity has completed 21 test flights and Blue Origin's New Shepard has done 15 and in a couple of days time, barring any weather or operational complications, we'll get to see who the First Multi-Billionaire in Space will be.