Hot Gists
Bisi Ibidapo's Baby Named Dino Melaye's Last Name (Naming Ceremony Pictures)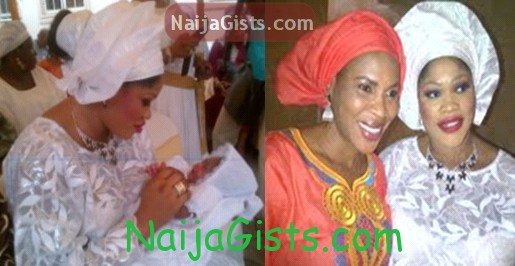 Dec 7, 2012 – Bisi Ibidapo Names Her Baby Dino Melaye's Last Name (Naming Ceremony Pictures)
While many think she is trying to tarnish Hon. Dino Melaye's image, Nigerian actress Bisi Ibidapo Obe who obviously means business has named her baby girl Precious Oluwajomiloju Abikeade Melaye during her baby naming ceremony that took place few hours ago. naijagists.com
Bisi Ibidapo who said Kogi-born house member, Dino Melaye was the man who impregnated her is still standing by her claims.
Baby Precious was delivered in Lagos on the 30th of November 2012. On Friday, Bisi did her baby naming ceremony at a white garment church she attends in Lagos.
According to a source, Dino Melaye wasn't in attendance during the naming ceremony.
We learnt Bisi is 100% sure of the father of her baby.
I'm not playing games, I'm matured enough to the man who impregnated me. Precious Oluwajomiloju Abikeade is the product of the brief affair I had with him – The actress was quoted saying this at the naming ceremony while chatting with friends.
Wishing baby Precious the very best in life.
Congrats to Bisi and Dino Melaye #lobatan