Hot Gists
Bolanle Ninalowo Wife Bunmi Ninalowo Bleaches Skin, Gets Butt Implant To Adopt Dencia's Look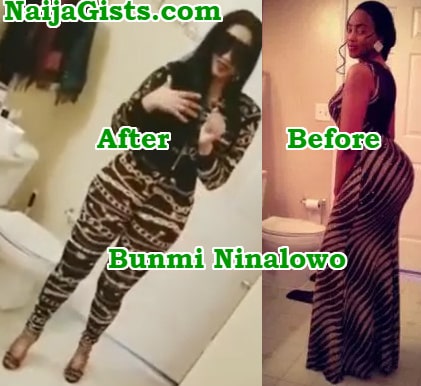 Bolanle Ninalowo Wife Bunmi Ninalowo Whitens Skin, Undergoes  Tummy Tuck & Butt Implant Surgeries To Adopt Dencia's Look
See What Bolanle Ninalowo's Wife Did To Get Her Runaway Husband Back
Nollywood actor Bolanle Ninalowo who dumped his wife, Bunmi in Atlanta last year has officially apologized to her.
According to sources in the know, Bunmi who before their separation put on weight due to child birth has now adopted the look of an ideal Cinderella that men always want to date.
To crown it all, she has bleached her skin with chemical and has went under the knife to shape up her backside.
Her new figure reportedly forced her husband to have a change of mind and apologize quickly.
Check out the latest video of Bunmi below.
Pay close attention to her leg and hands…
Oh my… Bolanle Ninalowo's wife now looks like Dencia…
Are African men forcing their women to undergo butt implant.
According to an insider, Bunmi is not the type that will naturally undergo such implant, someone must have talked her into it.
Hope she knows the side effect of such body modification surgical procedure.
We are happy they are now back together.
My source said most of her friends  in Atlanta prefer her natural look to her newly adopted "Oyinbo by force" look.
The difference is crystal clear.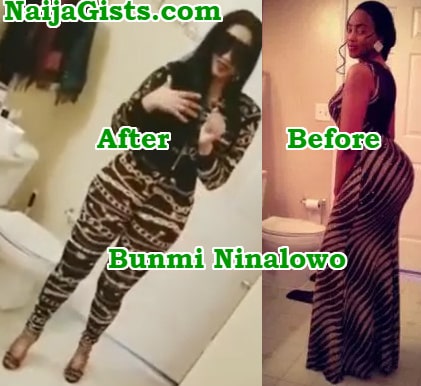 Ladies, can you do what Bunmi did to get your runaway husband back?.