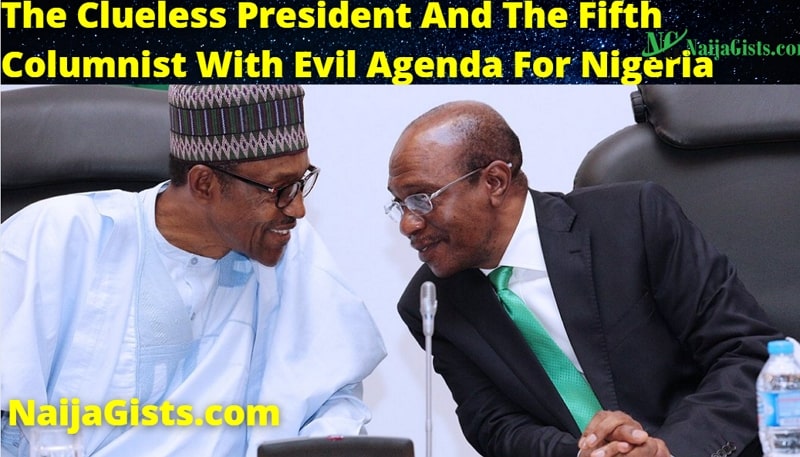 Exclusive report by Richard Odusanya
Exposed! How Godwin Emefiele Has Been Funding The Black Market Through Backdoor At The Expense Of Nigerian Economy
The Clueless President & The Fifth Columnist With Evil Agenda For Nigeria
For those who do not know, fuel scarcity and redesigned naira are part of an elaborate scheming and the handwork of the "Fifth columnist" working tirelessly to scuttle the process of smooth conducts and transfer of power from one regime to another. According to Ajuri Ngelale, in an interview with TVC: "In the midst of the Naira note scarcity being clandestinely orchestrated by Godwin Emefiele and the cabals with active connivance of the PDP, what is found, that is very horrifying, to say the least, is how Godwin Emefiele racketeered our foreign exchange."
Ajuri had opened up a bit on this issue. He revealed that in July 2021, it was agreed by the CBN that the BDC (Bureau de Change) operators, made up majorly of black marketers of dollars, won't be credited again. He further stated that the budget for the CBN to the BDC operators yearly was $5.2 billion dollars. He said this move was taken so as to enable the CBN raise enough Forex for PTAs, educational and medical purposes, etc." He then lamented, that; "while the CBN was still struggling to meet these obligations, the black market kept expanding." Interesting times ahead.
Simply put; Emefiele and his 'Gang' have been funding the black market through a back door channel, at the expense of the Nigerian economy. The CBN dollar rate is 460, black market rate averaged 650 since 2021.
With this sustained arbitrariness, it is easy to make over N1 trillion yearly. Hence, his refusal to float the Naira. At the current market rate of N750 to $1, the dollar is overpriced. If Emefiele had floated the Naira (which eliminates the black market), the Naira was going be lower than N750."
Why in the first place will a new government under the leadership of President Muhammadu Buhari, reappoint Godwin Emefiele engaged by previous government? An appointment in the core of policy making of the government. This is apart from several infractions, moral issues and allegations by the Department of State Services (DSS) about Emefiele funding terrorism and the elements of IPOB. I think it was politically suicidal in addition to risking of a mole from the opposition elements.
In view of the foregoing, I reckoned with the saying that bad conducts must be discouraged. It is instructive to note that as weighty as the allegations, coming from the government's flagship intelligence agency are, President Buhari has continued to hold one-on-one meetings with Godwin Emefiele since December. This is a real time exemplification of the term 'Echo Chamber', where a leader, is interred, willfully blindsided by his handlers. Tuned out, out of touch. Led, noose and all, down an abyss, sequestered and fed only lacerated information, about the general state-of-things.
The buck, as a leader, stops at his table. Him, and him, by his lonesome, is blameworthy in all of these. Do-gooders, like Buhari, can be too trusting of people, for they reckon everyone is like them, without airs, plain-speaking, trust-giving, good intentioned. Alas, the world of mortal man is stranger than the most imaginative piece of fiction.