Crime News
Shock As Butcher Cuts Off Son's Hand For Refusing To Stop Watching Pornographic Movie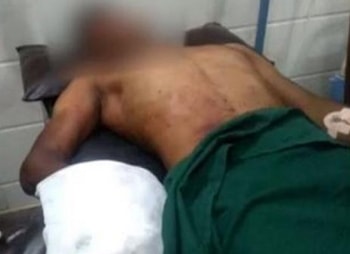 On Sunday, Qayyum caught his son red-handed watching a porn film. He tried to snatch the mobile from his son, but the latter resisted and even bit the hand of his father.

A man has reportedly chopped off his son's hand in Hyderabad on Monday. The teenage boy was allegedly getting addicted to pornography on his smartphone despite repeated warnings from his father.

"The father has been booked under section 307 of Indian Penal Code (attempt to murder) and taken into custody," Pahadishareef police inspector P Lakshmikanth Reddy said. "The son has been rushed to a private hospital nearby."
According to police, Qayyum has four children including two sons and Khalid is the elder of the two sons.
Khalid was reported to have bought a new smartphone recently and his father noticed that he was always watching porn movies and photo on the phone. he warned him to desist from such bad habit but the boy did not heed to the warnings.
On Sunday, Qayyum caught his son red-handed watching a porn film. He tried to snatch the mobile from his son, but the latter resisted and even bit the hand of his father. He immediately left home, stating that he would not come back. However, late in the night, the boy returned home when everybody had gone to bed.
"On Monday morning, both father and son quarrelled on the same issue again. In a fit of anger, Qayuum picked up the butcher's knife and chopped off Khalid's right hand. Hearing the son's screams, the other family members came and immediately took him to a nearby hospital, where the doctors said the hand was 90% severed and the chances of restoring it are bleak," police said.
[By Hindustan Times]