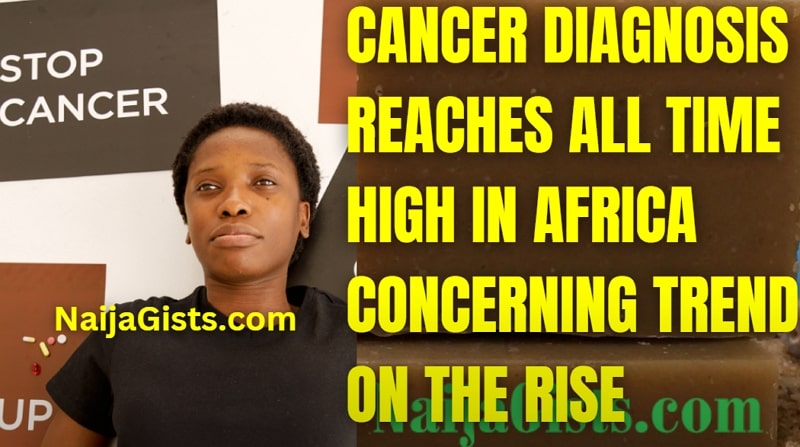 Concern As Cancer Diagnosis Reaches All Time High In Africa
Zimbabwe, the first African country on cancer's global incidence, occupies number 67: with 194.7 cases in every 100, 000. Denmark tops that table with 334.9 cases in every 100, 000. With 108.1 cases per 100, 000, Nigeria is number 150 on that global cancer table.
But this picture, courtesy of the World Research Fund International (WRFI), is cold comfort — and this direct quote from that study is why: "With the burden growing in almost every country, preventing cancer is a significant public health challenge."
But the same report added with a redemptive hue: "Around 40% of cancer cases could be prevented by taking risk factors relating to diet, nutrition and physical activity."
That two out of every five cancer cases could be prevented by better diets, healthier nutrition and more physical activity is good news. Still, when did "prevention is better than cure" become a mantra adopted by the majority?
Indeed, Dr. Matshidiso Moeti, the World Health Organization (WHO) Africa regional director, outed with rather grim news, while marking the World Cancer Day for 2023: approximately 1.1 million new cancer cases occur in Africa each year. From these cases have accrued no less than 700, 000 deaths — that is no less than seven deaths in every 11 cases! That's rather high!
But it's hardly surprising, given the general poor state of hospitals and health management. Cancer, after all, is a disease that needs specialised care.
In the run-up to 2050, the WHO statistical projection is even direr: Africa could account for nearly half of global childhood cancer by 2050! Right now, childhood cancer incidence in sub-Saharan Africa is put at 56.3 per one million people — not too alarming. But this could change, if rigorous steps are not taken at prevention.
Common cancers, among adults in Africa, are no relief either, going by WHO stats: breast cancer (16.5% of all cases), cervical (13.1%), prostate (9.4%), colorectal (6.5%) and liver (4.6%) — all accounting for nearly half of new cancer cases in the region.
Cervical cancer (endemic in African women) and prostate cancer (endemic in African men) should really challenge African medical scientists. African governments and foundations should fund researches into the specific environmental causes of these cancers, and work towards enduring cures. But perhaps more importantly, figure out vigorous preventive practices. After all, prevention is still better and far cheaper than cure!
But again, the stress here is funding. Without adequate funding, vigorous cancer research would be a pipe dream. African countries must therefore develop the political will to pour cash into this research, aside from seeking partnership and collaboration with other regions of the world.
Still, with research lagging behind cases, treatment and cure, prevention offers the most pragmatic way of fighting cancer. Strong prevention techniques could be as "easy" as changing ruinous habits and lifestyles. Though changing fixed habits may not appear that easy, with adequate enlightenment, it is not impossible.
Cancer research has come up with simple preventive tips: basically in diet, healthier nutrition and physical exercises. For starters, work towards a healthier weight. That can be done by right diets and regular exercises.
The diet regime recommends whole grains, vegetables, fruits and beans as dominant foods. It also advises a radical cut-down on processed foods which have high fats, starch and sugar components. Intake of red meat: beef, pork, veal, mutton and lamb, excess of which could cause colorectal cancer, should also be severely reduced.
It also calls for serious cuts in sugar, sweetened and allied processed drinks. All these are known to spike blood glucose and insulin, which could trigger endometrial cancer. Also, as much as possible, alcohol should be off limits. Excessive alcohol is known to cause cancers of the liver and kidney. Of course, smoking is a no-no.
Still, lifestyle is so difficult to change because it comes with the so-called "modernity" or "civilisation". Selling a "new" life or living is a welter of advertisement messaging, blaring the benefits of the product, but far less forthcoming on its hazards. Hazards, however, could come with the territory. The good is a product of factory processing.
So, the government should adopt a public health policy that makes it mandatory for commerce and industry to be more forthright on possible product hazards, instead of burying all in the glamour and razzmatazz of advertising.
If authorities have succeeded in health warnings on tobacco and alcohol products, the new cancer challenge calls for no less vigour on sugar and sweetened products.
With African public health facilities less primed to tackle cancer, vigorous public health education and enlightenment can step up to fill the void; and halt this fearful advance.