Hot Gists
Shocking Confession Of A Man Who Lost Wife & Son To Governor Mimoko's Election Rituals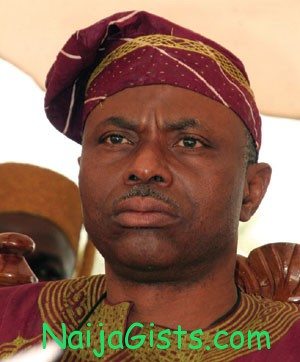 Governor Olusegun Mimiko
Sept 6, 2012 – Shocking Confession Of A Man Who Lost Son & Wife To Governor Mimoko's Election Rituals
Mr Ademuyiwa Adeyeye, an ex-aide of Ondo state Governor, Olusegun Mimiko who thought the steps he took to ensure the governor's election success in 2007's Ondo State governorship election would give him and his family a better life has found himself in the deepest tragedy of life. naijagists.com
The steps has plagued himself and his family with blood, sorrow and death has left him in eternal pain.
On ADABA FM, a private radio station in Ondo state, Mr Adeyeye gave a shocking details of how many people where killed for rituals in different cities in Ondo to ensure Mimiko's victory in 2007 governorship election;
Governor Olusegun Mimiko 2007 Election Rituals
Mr Ademuyiwa Adeyeye said Governor Mimiko sent him and the late Honourable Oye Alademehin, late Senator Iwakun and another individual to India to consult marabouts.
Ademuyiwa further revealed that they went to an Ijebu town where they were directed to go and be killing goats in different towns and villages in the state.
The lot fell on Ademuyiwa to kill the goats. But without knowing, he was killing human beings. After the killing, Ademuyiwa, who said he was well known among members of the drivers' union [NURTW], said he met his wife on his way back and hugged her, but immediately his wife developed  swelling breasts.
Ademuyiwa said he spent all he had on his wife's health. Doctor later told him his wife had cancer of the breast and had to remove the pair of breasts. At the end of the day, he lost the wife.  He also told listeners that he lost one of his children.
Revealing this, Ademuyiwa said "We went to India to make rituals. When we got to Ondo State, the governor and late Alademehin [a.k.a Dead Body] said we had to kill goats in different parts of the state for peace to reign. Of course, I was the one that killed the goats without knowing that I was killing human beings. On my way back, my wife met and hugged me. Her breasts began to swell. I took her to different traditional healing homes.
"When I did not get good result, I took her to the hospital. It was at this point that the doctor said it was cancer of the breast. They removed the two breasts, yet I lost her. I also lost my son. It was at this point that I was advised to go to a church in Lagos. It was there I met T.B Joshua who is from Akoko, he said I should go and confess my sins to the people of Ondo State".
While narrating how they started the spiritual's trip, Ademuyiwa explained that "When we were coming from Ijebu where will were giving a python snake which would be an instrument for the governor, some people laid spiritual ambush for us. Alademehin told me to drive on, because I was the one that drove the car, I told him no.
"He now called the Ijebu herbalist who told us that he already saw it. He then removed the embargo; we brought the snake and dropped it very close to the governor's pond in Ondo. It is still there as I speak with you. If you doubt my story, go there. You will see the snake.

"Everybody in the drivers' union knows me very well. The governor came to me with N3million after losing my wife and a child. I told him I don't want blood money again.  I want peace in my family, not blood money".
Speaking on the ordeal of his wife, Ademuyiwa said, the late Hon. Alademehin came to his aid by giving him money. He said among the people that went for that ritual, he was the only one that is alive and not afflicted by any disease, but not without losing his wife and one of his children,
His words, "I am the only one who is still alive and not afflicted by any serious ailment among the four of us who perform the rituals for Mimiko. After seeing the snake, I asked late Senator Iwakun if there would not be any repercussion.  Iwakun said he did not mind whatever repercussion that might arise from killings and the python charm. Four days later, Iwakun gave up the ghost.
"Before the death of Iwakun, Hon. Oye Alademehin had an intractable ailment that led to his premature death. Governor Mimiko visited him on his sick bed in one of the Lagos hospital and promised him that he would take care of his family since he laid down his life for him to become the governor of the state. The last person that was privy to the devilish act is at Alagbaka in Akure, currently battling with paralysis.
"When the man suffered the killer ailment, Governor Mimiko gave him N6million. But that money could not cure his infirmity".