Entertainment News
Davido & NYSC Officials Slammed For Turning Iyana Ipaja Lagos Orientation Camp Into Party Zone
Davido & NYSC Officials Slammed For Turning Iyana Ipaja Lagos Orientation Camp Into Party Zone.
It is no longer news that star singer David Adeleke aka Davido has registered to serve his fatherland exactly 3 years after he graduated from Babcock university but what is trending is the fact that the young musician has turned the National Youth Service Corps organization into joke as his appearance at the Iyana Ipaja orientation camp has turned the place into a fun fare with no serious activity.
A source who is currently serving at the same location said she is frustrated that the officials who supposed to call Davido to order are the ones running after him for photos.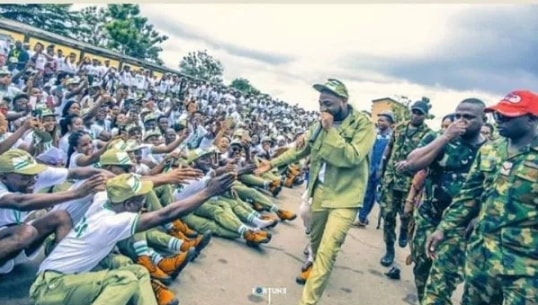 "I even heard an official asking him for connection, what kind of thing is that. I'm really angry that my fatherland has put power into the hands of entertainers. If all we do in this country is entertainment, what will the future of our kids be. Davido should not be forced on us as a role model as his lifestyle is not worthy of emulation".