Hot Gists
Enebeli Elebuwa's Health Update From New Delhi, India: Nigerian Community Paid Him A Visit
Nov 15, 2012 – Actor Enebeli Elebuwa's Health Update From New Delphi, India: Nigerian Community Paid Him A Visit
Update: Enebeli Elebuwa Is Dead. Click link for details
Ailing actor Enebeli Elebuwa who was reported dead few weeks ago is currently recovering at a hospital in New Delhi, India. naijagists.com
We learnt Enebeli Elebuwa's treatment was sponsored by Delta state government.
Some gracious Nigerians and members of Ndokwa community visited him on Wednesday Nov 14, 2012.
According to a source, the wheelchair-bound actor will soon be released as he is recovering well.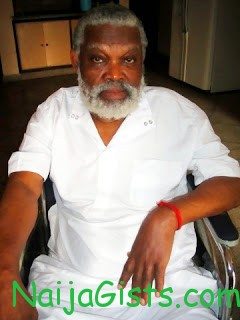 A big thanks to the Ndokwa people, his fans and the government of Delta State for their quick intervention.
Wishing him quick recovery.
SPAMMERS ALERT:
Beware of spammers posting offers in the comment section of this blog, we are in no way endorsing theirs offers.
DO NOT WASTE YOUR MONEY ON SUCH OFFERS.