Gbenga Adebambo
Face Value Vs Brain Value: Why You Should Invest More In 'Brain Beauty' Than 'Face Beauty'!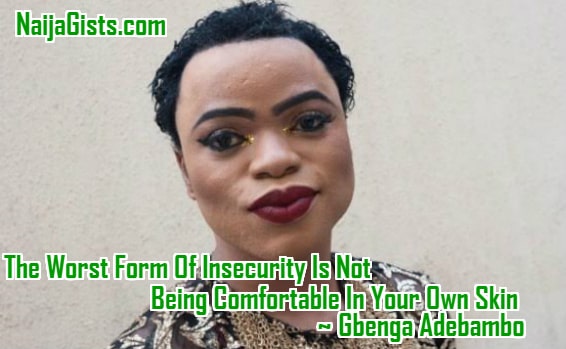 Face Value Versus Brain Value: Why You Should Invest More In 'Brain Beauty' Than 'Face Beauty'!
The Worst Form Of Insecurity Is Not Being Comfortable In Your Own Skin 
"Some people wake-up ONLY to make-up"-Gbenga Adebambo
Leo Tolstoy once said, "Nothing is so necessary for a young man as the company of intelligent women".
Intelligence is sexy! It is sympathetic to know that some ladies are good looking until they make-up! The only thing some people have is facial value; they lack intrinsic worth. Your self-worth and not your face-worth determines your net-worth. Invest more on your 'brain' than on your 'face'!
The worst form of insecurity is not being comfortable in your own skin.
Gwyneth Paltrow once said, "Beauty, to me is about being comfortable in your own skin."
We are living in a world where being natural is no longer fashionable, what a monumental psychological loss! Many ladies have become victims of their own uncontrollable and obsessive addiction to make-ups. Some have used their 'idea time'- time to get an idea and work on it- to 'cake' their faces, many unwritten books have been lost to make-up times, many volatile ideas have been buried with make-up powders.
We should be creative and not abusive with make-ups. We should strive to have healthy aesthetic standards; don't defraud your natural beauty with too much make-up.Most young ladies look many times older than they really are just because of their excessive dose of make-up.
William Shakespeare in one of his legendary plays, Hamlet, said, "God has given you one face, and you make yourself another."
So many times, people are beautiful, not in looks but just in the way they are! Fredrick Douglas said, "I prefer to be true to myself even at the hazard of incurring the ridicule of others, rather than to be false, and incur my own abhorrence" I want to emphatically say that using make-up is great, but our impulsive obsession of it is robbing us of our ability to spend quality time on the things that truly matters.
Beauty begins the moment you decide to be yourself.
Edith Sitwell said, "The greatest secret of a successful appearance is 'be yourself'".
Authentic things need no gloss, polish or glitter to shine! People who use a lot of their time 'making-up' seldom have quality time to do things that are productive. Day and night, they continue the cycle of waking up and making-up without any tangible achievement throughout the day.
By being your authentic self, you will attract people that are authentic and real; most times, ladies lament on their ill-luck of attracting fake and unpleasant people while the major reason for their predicament is simply that they themselves are unreal.
The search for self-worth is not a skin phenomenon; a healthy self-esteem begins by finding what is indestructible inside, and then letting it be.
We must first deepen our relationship within ourselves before we get preoccupied with how we look in make-up.
By building a life and lifestyle around our values, we create a life that is more satisfying, meaningful, and fulfilling. There is nothing more attractive than a healthy self-esteem; once you see your own beauty, so will everyone else. The best self-image is not 'facial'; it is the one that is internally motivated.
It's a man's job to respect a woman, but it's a woman's job to give him something to respect.
I really want to advise our young ladies to spend their time judiciously, and stop the glorification of artificial beauty.
Spend your time productively in evolving a better 'you'; be more of yourself and less of make-up.
In applying make-up, moderation and simplicity must be your watch-words.
The Bible captured it more succinctly in 1 Peter 3:3-4(NIV), "Your beauty should not come from outward adornment… Rather, it should be that of your inner self, the unfading beauty…. which is of great worth in God's sight."
There is more to life than good looks and charm. While it is alright to pay attention to our physical appearance, it is not reasonable to do that at the expense of developing virtues, competence and character (i.e inner beauty) which are what we really need to have a successful and impactful life.
Good looks, pretty face, charm might attract people to us, make them give us the second and third look, but VIRTUE and CHARACTER will keep the right people around us.
Make-up time is necessary for ladies and women but shouldn't be prioritized more than personal development. Your priority should be the value you want to add to the world and not what you want to add to your face!You can surprise the man in your life once in a while with an artistic rendering of your face, but never forget that he didn't marry make-up, he married you! Stop spending too much of your time on artificial beauty, rather invest in intellectual beauty.
Finally, people who are fond of wearing heavy make-up on their faces and skins to enhance their beauty have been warned to reduce such to its barest minimum. Medically, some dermatologists believe that this could cause the applicant's high blood pressure, fertility problems, hormonal problems, abnormal menses, skin cancer, mood disturbances, irritation, and other diseases.
This is attributed to the chemical contents of most make-up. Lipsticks, kajal sticks, eye-shadows, eye pencils, mascara among others are known to contain carcinogenic and neurotoxic chemicals that can have adverse effects on the skin. These chemicals have the potential to cause serious health problems.
Excessive make-up exposes the skin and the eyes of users to germs and harmful toxins.
It has been advised that women who apply make-up on their skins must always clean their faces before going to bed to remove all traces of chemicals from their skins.
Leonardo da Vinci said, "Simplicity is the ultimate sophistication."The greatest form of comfort is 'simplicity'.
Stay natural, stay simple, stay beautiful, and stay blessed. Invest more in 'brain beauty' than 'face beauty'!
QUOTE OF THE WEEK: "We are so accustomed to disguise ourselves to others that in the end we become disguised to ourselves."-Francois de La Rochefoucauld