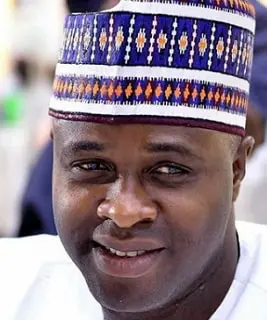 The driver of Nollywood actor Femi Adebayo Salami has just escaped an attack by some suspected robbers  near Ojota, Lagos .
The actor took to IG few hours ago to narrate how 2 gun-wielding men attacked his vehicle in broad daylight while his driver was coming to pick him up.
Here is what the actor wrote via his official Instagram page @femiadebayosalami earlier today.
"I thank God for his protection over me and mine. I know my job comes with its risk. Working as an Actor and Politician requires my regular movement."

Today, Just at the U turn coming from CMD Magodo around 7UP heading towards Ojota, my vehicle was accosted by men in a Toyota Corolla. They crossed my vehicle at the U Turn. 2 men alighted from the vehicle bearing AK47s. They tried to force the doors open. They kept hitting my car with the butt of their gun. In the process, they broke the door handle and left dents on different parts of my vehicle.

All these happened in full view of other vehicles and other individuals passing by. In the short time this happened, no one came to help. The guys were obviously not Policemen, they didn't wear any Insigna of the force. They wore plain clothes and had extra guts to perform this act during the day at about 12 noon.

Their assumption will have been that I was in the vehicle but my driver was the only one enroute to my location. With swiftness, he was able to maneuver and speed off. I thank God for keeping him. We are all still shocked at this but grateful to God that no life was lost in the process. #FemiAdebayo