Hot Gists
Foluke Daramola Narrates How Apostle Joseph Ayo Babalola Alleged Witch Wife Maltreated Him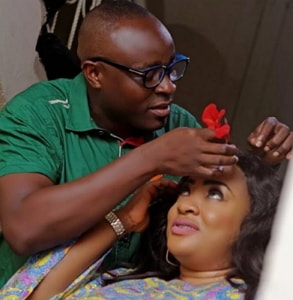 Foluke Daramola Narrates How Apostle Ayo Babalola Was Misled By Church Elders To Marry A Wicked Woman
Popular Nollywood actress Foluke Daramola who is now happily married to the ex-husband of a Redeemeed Church of God Pastor took fans on the memory lane yesterday to the time of Joseph Ayo Babalola who allegedly married a wrong wife after listening to the instruction of his church elders.
Here is how the actress summarized the story in an Instagram post:
"CHOICE OF WIFE/HUSBAND; THE SAD EXPERIENCE OF GREAT APOSTLE AYO BABALOLA. His known mistake was his choice of wife.

History has it that the woman he truly loved was a single mother, but the elders of CAC considered it an embarrassment for their leader to marry a single mother. Hence, they misled him to marry the spinster who later became the thorn in his flesh.

Her name was Dorcas. A Christian name is not the same with a Christian at heart.

"There was a time she poured palm oil on the white garment of the man of God on his way to a crusade ground. Another time after returning from the mountain after long days of prayers and fasting, the wife served him a delicious meal to break his fast.

He had only taken about two or three morsels when the wife told him 'l thought you are a true prophet, because you should have known by revelation that the chicken in the food was stolen.' The man of God gently left the remaining food and returned to the mountain to ask God for forgiveness

"As anointed as he was, he had no adequate mentoring, part reason for his wrong choice of wife, which sadly and eventually, directly or indirectly led to his untimely death."
Foluke Daramola's husband left his three children and wife under a suspicious circumstance several years ago and since then has never looked back.
May be he now believes he made the right choice.
No man in his right mind will abandon these handsome boys and elope with another woman. Truth be told!!!!.
Foluke Daramola Vs Ayo Babalola's wife: A clear case of pot calling the kettle black.