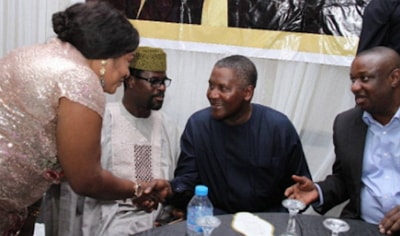 In a recent chat with Tony Okuyeme, Nollywood actress Foluke Daramola recounts how she felt on the day Human Rights Activists, Festus Keyamo introduced  him to Africa's richest man, Aliko Dangote.
Her words:
I met Aliko Danoote at Festus Keyamo's birthday last year. Mr. Keyamo introduced me to him, the next thing I noticed was that he stood up greeted me. I was surprised to see such humility.
It was an amazing encounter and I was very excited. Someone that is generally respected as the richest man in Africa, standing up to receive me, just a simple me that does not have up to one-20th of what he has.
It just shows that it is people that don't have anything that make the loudest noise.
So, in my industry, I have learnt something, which is that humility is something that only adds to you; it does not subtract from you.