Hot Gists
Governor Chime Battles Leukemia & Kidney Failure; In India For Treatment – Close Friend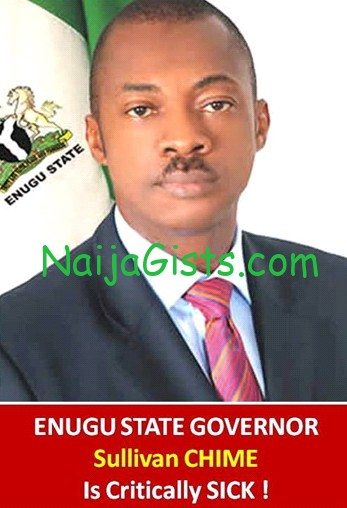 Dec 19, 2012 – Governor Chime Battles Leukemia & Kidney Failure; In India For Treatment – Close Friend
According to a close friend of Enugu State Governor Sullivan Chime, Mr Nnamani who governed the state from 99 to 07, Chime is currently undergoing treatment for Leukemia and Kidney failure at a specialist hospital in India. naijagists.com
Below is a detail report from Punch on the current health condition of Enugu State Governor Chime.
Chime was Commissioner for Justice and Attorney General of Enugu State from 1999 to 2007 when Nnamani was governor of the state. Our correspondent gathered that their friendship dated back to the College of Immaculate Conception, Enugu, where they had their secondary education.
Their political differences, political pundits claimed, led Nnamani into establishing the People for Democratic Change, to unseat Chime in the 2011 general elections.
During the electioneering last year, The PUNCH recalls that Nnamani, in one of the campaigns, stated that he gave Chime N7m for a heart surgery in America.
"I recommended to him the doctor who should lead the team of surgeons when he gets to America. I did this for him when he complained to me and I noticed he was not feeling fine," Nnamani had said in 2011.
Chime had been out of the country since September 20, as stated by the state Commissioner for Information, Mr. Chuks Ugwoke.
He is believed to be in a hospital in India where he is still undergoing treatment for Leukemia and renal failure. The commissioner, who had in October insisted that Chime was observing an accumulated leave, and not undergoing medication, had, however, recanted.
Last Sunday, in the midst of a strong rumour that Chime had passed on in the India hospital, Ugwoke said the man was recovering and "he is doing well."
Meanwhile, Nnamani could not be contacted on Tuesday to speak further on the issue as he is currently in America.
His spokesman and former Commissioner in Enugu State, Mr. Igbonekwu Ogazimora, when reached, said, "I don't know much on that issue.
"I would have called him to inquire on the issue, but whenever I try to call him, I can't reach him. So, whenever he call me, I will ask him then get back to you."[Punch]