Hot Gists
Governor Okorocha Ripped For Giving Chieftaincy Title To President Zuma & Erecting Statue For Him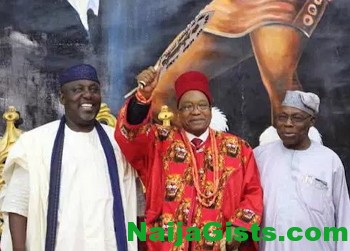 October 16, 2017 – Outrage As Governor Okorocha Erects South Africa President Zuma's Statue In Imo State
Governor Okorocha Ripped For Giving Chieftaincy Title To President Zuma & Erecting A Statue To Honour Him
Okorocha Names Street Jacob Zuma Street After South Africa's President In Owerri Imo State
Nigerians have condemned Imo state governor Rochas Okorocha for erecting the statue of South Africa's President, Jacob Zuma in Owerri Imo state.
In his bid to honour Zuma, Governor Okorocha gave him a Merit Award, named a street after him and gave him a Chieftaincy title.
The insensitive show of honour on Jacob Zuma who many Nigerians are blaming for refusing to tackle the senseless killings of Nigerians in South Africa forced angry Nigerians to register their disappointment on Twitter yesterday.
Check out some of their tweets below:
There is nothing bad in Okorocha giving an award to whoever he pleases, however the timing is the issue.
The rate at which innocent Nigerians are being killed in South Africa is high.
Why not wait until Zuma fulfills his endless promises before hanging such a merit on his head.
Okorocha got it wrong this time around.
And to President Zuma, congrats na your luck Oga #our mumu don do.