Hot Gists
'High Divorce Rate In Nollywood Baffles Me' – Actress Uduak Akrah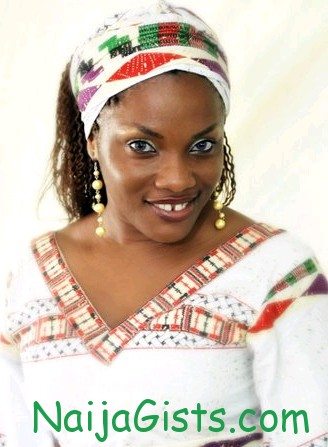 Uduak Akrah
Sept 9, 2012 – I See Marriage As A Success – Actress Uduak Akrah
Nollywood actress Uduak Akrah is one of the top movie star doing fantastically well. In this latest interview with Adaeze Amos, the UNILAG graduate who also works as an event planner said boldly she nurses no fear on what marriage holds for her. She also touched on other issues including the problem of high divorce rate currently facing the Nigerian movie industry. naijagists.com
Interview excerpts below:
What motivated you into acting?
Watching movies, seeing other actors and actresses doing different things excited me. I was always looking forward to it. I wanted to be like one of those people someday. From secondary school, I noticed that I liked acting and everything that had to do with it.
Were you acting in secondary school?
Not really, because I was a bit shy. But I was singing when I was in school. Till date I love to sing. I'm in my church choir.
Are you thinking of releasing an album as most of your colleagues are doing?
Not really! That's not in my mind right now.
Haven't some roles you've interpreted run contrary to your faith?
Acting is all about make-believe and it is my job. If I'm given a role, it's my duty to bring it out perfectly and convince the audience. It's just the way a banker or a lawyer is doing his job that I'm also doing mine. It doesn't have anything to do with the real me or my faith.
Can you take up roles that would do with nudity?
Never! Because I think if I want to pass any message across, I can do that without necessarily going nude. When you expose your body, what message are you passing across? Even if the person is a prostitute, does it mean you have to see the person naked before you can pass the message that the fellow is a prostitute? I don't need to go nude to pass the message. Our society doesn't permit that. So, it's not fashionable to act nude. You only make fool of yourself if you do that.
Some have said if the pay is good, why not?
I won't do that o! I'm an actress with a difference. I have reservations and for the fact that I'm acting doesn't mean I should go crazy. For me, I cannot. Well, people have guts. They can do some things. 'My own guts never 'reach that level o!' I'm not that kind of a person and, again, my faith wouldn't permit me to do it. In fact, I won't even think of it because my body is the temple of the Holy Spirit. So, why would I expose it to the world? My body is meant for my husband.
How about romance roles?
Well, to an extent. I can't go all the way. As I said I have reservations.
Don't you think that is why you don't get so many roles?
Yeah, you are right because I'm not crazy about stardom. I just love what I'm doing. I even prefer to act on stage. I love being on stage a lot because that was how I started. Stage acting is even more difficult. That is when you know the real professional.
What makes your day?
Listening to music, worshipping God make me happy.
When you want to unwind, what do you do?
I go out, watch movies, hang out with friends and catch a drink somewhere.
Do you take alcohol?
No, but I could take red wine. It shouldn't be too alcoholic because I don't like anything that makes me tipsy. I just stick to what I can stand.
What about smoking?
No, I don't. I tried it once in one role I took up but it wasn't working so, they yanked it off. That was some years back. The director didn't insist; if he had, I would have done it better. I don't think it was necessary for that particular role, if it was, I would have tried to bring it out well.
What is that habit you have been praying in your closet to change?
I don't have any habit at all.
You mean you don't just have one?
Well, since you insist, the only habit I used to have was shouting whenever I was upset. I would shout loud because I believed that was the only way I could express myself. Even when people reminded me to calm down, I would say no, leave me alone so as to show the person how upset I was. A lot of my friends were complaining because of the way I used to shout whenever I was upset. But after a while, I had to start working on it. I think now, I'm getting better.
What was childhood like? Were you born with a silver spoon?
I was born into a normal average home but I had the best in terms of schools and toys. I attended a federal school in Gboko and you know federal schools were really the best then. I lost my mum while I was in secondary school. That motivated me to give my life to Christ. Having a relationship with God made it easier for me to get over that shocking experience. It made me a better person too.
What was your dad's reaction when you started acting?
He didn't have a problem with it at all. My dad is the kind of man that allows you to do whatever you want. Anything that makes you happy, he encourages you to go ahead as long as it doesn't tarnish the image of the family. My father is in support of my acting career.
Cleavage-flaunting tops are in vogue, do you wear them?
No. I may wear them unintentionally. There are some things you buy and by the time you put it on, you discover some parts of your cleavages are showing. For me, I try my best to adjust such wears because I don't want to flaunt much. I could flaunt cleavages but I don't overdo it.
Are you single?
Yes, I am.
How do you feel about the high divorce rate in Nollywood?
It's touching, really. I think what is causing it is because a lot of them don't know what marriage is all about. They think marriage is all about name and status. Some feel 'oh let's be among the married women and feel like them or feel like married men'. That is why after a while, it parks up. That's not God's plan for marriage. If an individual would understand what marriage is, he/ she would do everything for the marriage to work. You would not rush into it because if you do, you would rush out of it. You need to know what you want and let your man know what you want. The foundation and reason for getting married should be right. A lot of people go into marriage because of beauty.
When you are set to marry, what kind of man would you go for?
I would marry a man with a vision. He may not be rich but he should have potentials. Even if the person is rich, I need to know what he does for a living.
Are you scared of getting married because it could crash?
I see my marriage as a success already, so I don't need to nurse any fear. Whatever it is, I know God would give me the best and I'm going to work it out. You could have the best and use your own hand to spoil it: with your attitude. I will pray to get the best man. I have started working on myself to be a good wife. I have started working on my temper. I no longer rave when I'm angry, I now try to be quiet.
What if you end up marrying a man that will punch you, a bully?
No, I would run for my life. That is why courtship is good. If I notice it while courting him, I won't marry him. I would come out of it. I had a friend at a time; he was asking me out, and I went to see him once and I came late. Something happened. He was really upset. He shouted at me that I kept him waiting. And because I didn't like anybody shouting at me, I turned my back and I was about walking out, he pulled me back and said what rubbish, why should I walk out on him. That was a good sign to call it off and I did. But the guy I'm dating now is always patient to wait. I left the other one because that was a good sign that in future such a guy can beat me, so I ran. Some ladies would remain in such a relationship hoping to change him. No adult can change(nationalmirror)