Hot Gists
How Do I Know My Nigerian Boyfriend Is Truly In Love With Me? African American Widow Cries Out For Help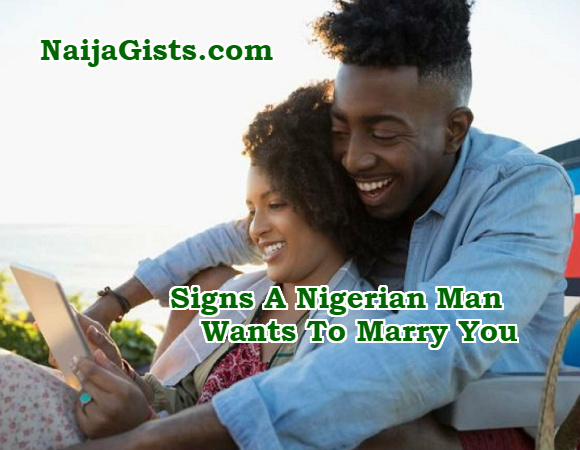 How Do I Know My Nigerian Boyfriend Is Truly In Love With Me.. Please Read My Story – African American Widow Cries Out For Help
By Shirley
Here is a raw message received from an African American woman who is currently dating a younger Nigerian man.
Shirley (last-name withheld) is having mixed feelings about her Nigerian man. She wants inputs from Nigerians.
Please read her story and give her your input. Thank you.
---
I meet a Nigerian man who found me on Facebook and liked my picture and contacted me, initially to scam me, he claimed to be an Italian man. When he found out he could not scam me he started talking to me as himself, he is from Warri. I was dealing with my late husband's illness, he had stage 4 lung cancer and my Nigerian internet boyfriend was very supportive. When my late husband passed in 1/2018 I flew to Lagos to meet the Nigerian boyfriend.
He is half my age, fortunately, I am very youthful and attractive and fit, we hit it off, our sex life is good. Should I add he was extremely helpful when it came time to get my visa to travel to Nigeria. Prior to traveling, I spoke with his parents and sisters and it all seemed on the up and up. I had no reason to doubt his sincerity. I was pleasantly surprised when we meet and he/we seemed very attracted to each other. We traveled to Delta where we were meet by several of his friends all well dressed and a Lexus was waiting to drive to a hotel, the entire thing was being videotaped, when the door opened inside was his Dad, Mom, and two sisters other people, with champagne.
He leads me to the bedroom and in rose petals on the bed had the words spelled out "my name" please say yes, and gave me a beautiful engagement ring. I said yes, he arranged the entire wedding including having the wedding suits and sisters dress all made in my favorite color. It was a formal event, held at the court. He had a professional photographer and I have a beautiful wedding album. During my original stay and marriage, my husband a lot of the time kept me locked in the hotel room even had his Dad and sister stay with me at times, while he was out doing who knows what, supposedly working???? We went out a couple of times in Warrie, all planned out by him, and when we went back to Lagos two days before my departure he took me out to the mall, we saw a movie and had dinner. We had drinks with a friend before I left for the airport and his Dad called me to talk with me as well to say good by that the family loved me an hoped I had a safe trip home. After I left from that visit the communication really slowed down, it seemed that there would be entire weekends I did not even hear from him, like Friday through Sunday he never even answered my WhatsApp chats or phone calls.
We had several fights and many ended with me saying I was going to get an annulment, he would talk me out of it and offer excuses why there was no communication from him. The second time I visited several months later, my husband said I could not come and spend those three weeks with him in Warri, and also visit the family, we had to rent a hotel and stay in Lagos. That was a fairly good time, however; he also took a class with a guy at the hotel and had his wife stay with me in case I wondered out of the hotel compound, she would go get my husband. He also told me he would have to work while I was there and would wake up throughout the night to be on his computer, he does marketing, he tells me. That has been almost a year ago, over this last year we have had many struggles, trust issued mainly and lack of communication.
When I ask if he has another wife or girlfriend he gets insulted and will not give me a direct answer, its all in my head. Also, we used to have phone sex every couple of weeks and that abruptly stopped, he says he will wait till we are together he prefers the real thing. He says I listen too much to people around me here in the US, and I think negative of him. During one split he even had his Dad call to patch things up. But I still remain very suspicious that there is a third party involved, I know about his son from a previous relationship, but she has remarried lives in the UK and more or less abandoned the son to his grandmothers care, who hopes I will come to get him. So I don't think he is involved with his son's mother, but something just does not seem right. Shouldn't he be telling me about his daily life, most of the time he will not even take my phone calls, if I had an emergency I don't even know if the authorities could locate him. **** a couple of times he has asked for money, and I have probably sent a couple thousand over the last year and a half.
In December I submitted for his spousal visa, so it could get issued in a couple of months. **** Recently he has become more attentive and actually acts like a husband, I hear from him pretty much daily now, his new self video chats and sends me lots of pictures, his whole tone, and attitude has changed and he is very nice to me now. He moved from Warrie back to Lagos. Is it possible he had a girlfriend in Warri they broke up, he moved to Lagos to put some distance between them and so now he can focus on me or is he just being nice to get the visa???? He has traveled to South Africa to visit cousins and supposedly learning from an African restauranteur about that business, he is back in Lagos, but will be returning to South Africa and is really pressuring me to travel there to visit for a month, I sold my house and he knows I have a little cash! I have such conflicted feelings about the whole thing, of course, he always says "I love you so much". I speak with his family his sister and me WhatsApp and occasionally I hear from his Dad.
I just can't get the overwhelming feeling that he could be using me just to get to the US out of my mind. I have told him if I get adopt his son in the US if he should want a divorce he can't just take his son I will parental rights. And obviously, I am too old to have children anymore, so that would be it for us, just the one son. ( another interesting fact, on the Sundays he tells me he is going to Chruch I don't hear from him till late Monday, if at all ). Okay, all you ladies, what do you think, is it possible we could have a good, long, happy marriage or is he playing me just to get to America?.