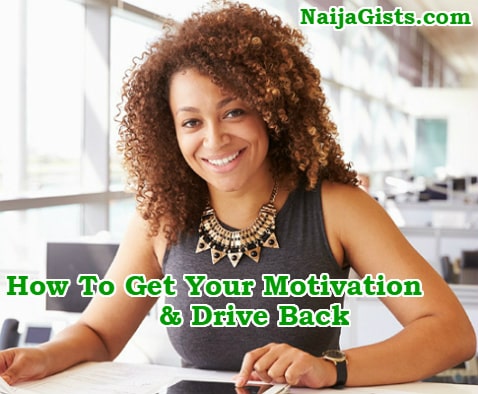 How To Recharge After You Have Lost All Your Motivation & Drive
By Carrie X and Henrik Edberg
If you've ever gone through a phase where you feel like you've lost your inspiration and drive, then you know how hard it can make things…

Struggling to get out of bed in the morning, not making much progress, feeling sluggish and frustrated… I could go on!
If this has ever happened to you then don't worry, you're definitely not alone! This is something I have faced on a number of occasions and I think it's something that most entrepreneurs experience at some time or another (but don't really talk about!).So I thought I'd be open and honest about my experiences of this! In the past I have gone through phases where it was a struggle to get up in the morning and felt totally demotivated… to the point where I just couldn't bring myself to do anything! It's not because I'm a lazy person, it's because there were things going on in my life that were affecting me that I wasn't dealing with.
Here are some things you can do to get your motivation back.
Refocus on doing what YOU really, really like to do.
When you really like doing something then the motivation to do it comes automatically (most of the time). And when you really want something then it simply becomes easier to push through any inner resistance you feel.
So if you lose your motivation, ask yourself:
Am I doing what I really want to do?
If not and if possible, refocus and start working on that very important thing instead.
Spend 3 minutes on remembering your successes.
If you lose your motivation then it is easy to get stuck in looking at your failures and so you get stuck in that slump.
So instead, sit down for three minutes and just remember your successes. Let them wash over you and refuel your inspiration and motivation.
Go for a bigger goal.
Set a big goal that inspires you even if it may seem a tad unrealistic at the moment.
If you have too easily achievable goals then you may find that they don't give you that motivational spark and drive. When you start to think a bit bigger then you get motivated and your mind starts looking for the solutions that will help you achieve that goal.
Thinking too small can leave you with a "meh…" feeling or make you feel like you can do it later.
Remember how far you have come and compare yourself with yourself.
Comparing what you have and your results to what other people have and have accomplished can really kill your motivation.
There are always people ahead of you.
So focus on you. On your results. And how you can and have improved your life and results.
This is important because it's a great motivator to see how much you have improved and how far you have come. Often you can be pleasantly surprised when you do such a review.
Work out.
I like this one because even if you feel too frustrated and down to ask yourself the right questions you can still drag yourself to the gym or wherever you go to exercise.
And if you just do your pretty mindless repetitions then your body will do the rest.
Endorphins and other chemicals will be released. Inner tensions will loosen up and leave your body.
Your negative emotional pattern will be broken. And new energy will be added to your body.
Talk about it.
Sometimes you just need to let it out and to talk to someone about your motivational low point. Letting it all out can release a lot of pent up emotion and let you get a new, more positive and healthy perspective on things.
Often we build our own small or medium-sized problems into big scary monsters in our minds.
Letting the monsters out into the light and letting others see them can make us realize that we were making a too big of a deal out of it all.
It allows us to lighten up a bit, to not take things too seriously and to start moving forward and find that lost motivation again.
Remember to have fun.
It's easy to get wrapped up in the seriousness of a task and the stress and tension of completing it.
So remember that you are allowed to have fun when you are working on it.
There is no rule that says you have to be all serious about it all the time.
When you can, create fun in a task. Compete with yourself to finish it even faster than you did the last time, whistle a nice tune while working or have fun and joke around with your co-workers and class mates.
Start moving and let the motivation catch up with you.
Many times I have found it better to just do it and start working instead of trying to motivate myself to get going.
At first what you do may suck quite a bit and it's hard going. But after a while inspiration and motivation seems to catch up with you.
Things start to flow easier and your work is of a higher quality.
13. Get accountability from one or a few people in your life.
Getting your goal, dream or new habit that you're working on out into the world can make a big difference for your motivation levels.
So tell a few friends on social media what you will do. Or talk to one of them on the phone or in person and ask her to check up on you and your progress regularly.
By putting a bit of social pressure on yourself and getting some follow up once a week or twice a month you'll be less likely to give up at the first obstacle or try to weasel out of your commitment.
Let the motivation from others (close by and far away in the world) flow over to you.
Spend more of your week with the people in your life that are enthusiastic, motivated or optimistic.
And let motivation from all over the world into your daily life and mind by:
Listening to positive podcasts.
Visiting uplifting websites.
Watching inspiring online videos or movies.
Exploring motivating books and biographies about the most successful people in history.
Take a break.
Yeah, sometimes you just need to take a break.
Perhaps your time-plan for your goal or new habit is just too optimistic?
Maybe you have worked harder than you can manage right now. Then take a break.
A few hours or days of rest and recuperation can change how you feel in a remarkable way and recharge your batteries.