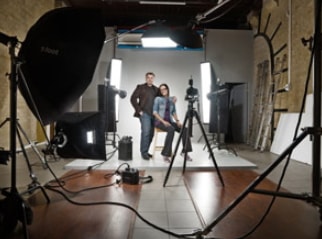 How To Start A Digital Photography Studio Business In Nigeria & Make Money… Costs Involved
Photography used to be a business for poor and 'local' people. Alas! Those days are long over. With the advent of digital photography, many people in Nigeria both male and female are earning a full time living as professional photographers. Some of them have bought cars even built houses from photography and there is no better time to go into this line of business than now considering the several weddings that take place every week and young girls who just want to snap because it's Tuesday.
However, information is vital to success of any business venture and photography is no exception.Therefore we will show you how to make money with photography in Nigeria by looking at details of what it takes to establish and run a successful photography studio with or without experience and turn it into a good business that is profitable.
Many people just want to start something and then turn back when things don't seem to be working out but this article is for those who are serious about making money with photography and are determined to succeed because you will need determination to excel.
Consider the following steps to help you succeed in your journey to establish a booming business in digital photography.
Gain some experience
If you are keen on photography but don't know your way around the camera, it is advisable that you get some experience. This is done by attaching yourself to an established photo studio where quality photographs are taken. The duration of apprenticeship depends on how fast you are able to learn so if you are good with your hands then you have no reason to spend years learning. You will know if you are ready to start on your own if the owner of the studio can give you assignments and trust you to carry them out without supervision. However if you have done this apprenticeship already then you are ready to move on to the next step.
Get a place and your equipment
Digital photography requires equipment such as cameras and a laptop with a good processing speed. A laptop of that kind will cost up to #150,000 now and a good camera should be about the same amount due to the current inflation in the country. Eventually you can buy things like studio lights and other studio accessories. You also need a studio which means you need a building but if you don't have money to get one yet then you can start from your house. Most big businesses in the world started in the chairman's room. Eventually you can secure a place you can call your studio which should be well decorated and beautiful to make customers relax when they come and have to wait on the queue. Get air conditioners if you can, anything to make your studio attractive is great. The studio should be located at a strategic place where people can see it like by the road side but not in a slum. The location of your studio will go a long way in determining how much patronage you get. If it is in a hidden place then put a big and attractive sign post by the road that clearly points to where the studio is. Make sure people can find it so that you don't lose clients just because they couldn't find you. That will give you competitors an advantage over you.
Add value
There are many photo studios in every city in the country so if you are going to excel in this business, you have to do something that many other photographers don't do. It might be something as simple as giving a sachet of water to your customers when they come to the studio. It might even be the way you relate with them. That smile may make all the difference so make sure you relate well with your customers and make a good first impression on those you met for the first time. If you have employees make sure the adopt the same attitude because you may not be around and clients meet them in your absence and you can lose clients if they don't treat them well so train them to treat customers will and they will keep coming back.
Improve your skills
We live in a world that is ever changing and only those who keep in pace with the technological advancement will survive. If there are skills you need to acquire to upgrade in photography, do that. Take free courses online and attain training in the country. The better you get at your job, the more people are willing to pay for your service. I know photographers who take pictures for a single wedding for #280,000. How did they get there? They kept upgrading and are definitely better than those in the same business with them. Therefore try to learn some new skills or acquire some new equipment you don't have. You have to spend in order to gain in the end.
Marketing your photography business In Nigeria
You have now established your business but you need to advertise for people to know about you and your location. This can be achieved by making complimentary cards and distributing. You can also give this to every customer that comes to your studio so that people can call you when they see your work and like it. Of course you have to be good for this method to work. Another method is to make flyers and place them at random strategic locations. Someone desperately looking for a photographer may just call you.
Offer voluntary service
One of the ways you can be sure you love photography and will succeed in the business is that you are willing to render voluntary service. Ask to work as a photographer at functions for free and if your photographs are good, the person you worked for may recommend you to someone else and the chain keeps going. Also offer to work for family and friends taking pictures at their events for free. The pictures will serve as samples for potential clients to see and if they are good, they will give you the job. Most people who render services started by offering voluntary service before commercializing their skills so try to offer such services just to get your skills out for people to see and when they start coming you can put a price tag on your services. Trust me they won't go back just because you asked them to pay.
Employ people to assist
As you start your business, you will need assistance especially when you start getting clients. To start with, you need at least an assistant to help carry your stuff while you work. This may be an apprentice who is trying to learn and then from there you can employed paid staff after you have established a studio of your own and you have more clients than you can handle alone.
Challenges Of Photography Business In Nigeria
Poor power supply
As great as photography is, it is limited by so many factors in Nigeria. Oneof these factors is unstable power supply. You cannot succeed in photography by relying on 'NEPA' because sometimes you will go without light for days. Major industries have failed in Nigeria because of lack of power supply. Photography is one of such businesses that cannot function without electricitytherefore you have to make arrangement for a good generating set that will supply regular power. Such generator should be one you can use for your laptop and equipment without damaging them.
Seasonality
The request for services of photographers is seasonal. Although it you will not run out of clients completely at anytime of the year, there is a higher demand for the services during festive periods and in the last quarter of the year during which the number of weddings increases significantly. Therefore you should have this in mind and plan to be available when the demand is really high. At times when demand is low, you will have the opportunity to do other things so it is not entirely bad. The trick is to plan and make the most of every season.
Competition
Like any other business, photography can be competitive so you must come up with your own strategies to beat the competition. You must try to understand your environment and know how to maximize the opportunities around. Think ahead of your competitors if you must stay ahead of them. There are so many variables I can't you probably can't see now but you should be prepared so you will know what to do when a challenge shows up.
Conclusion
The information in this article is all that you need to start your own digital photography business. You will need to be persistent in your business to ensure it succeeds. There will be challenges and many difficulties but you will overcome them if you keep pressing so never give up and good luck.
For more creative ideas, visit NaijaGists Creativity Center.