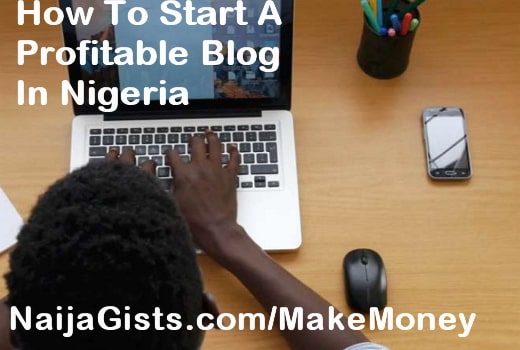 How To Start Music & Fashion Blog Nigeria (Step By Step Guide)
If you are a fashionista or music lover who would love to start a fashion/music blog, but don't know how to go about it, then you are in the right place.
As you know, blogging has become very popular, and it is one of the most widely used methods of spreading information, and communicating today.
As a fashion/music lover, creating a blog would present a better medium to share what you know to others, and you'd most likely end up making a fortune from it.
Cool. Right?
Now, as an aspiring fashion/music blogger, I urge you to read on with utmost focus, as I offer you a step by step guide on how to start a blog right here in Nigeria.
Without blabbing any further.
Step 1:
STUDY THE FASHION, MUSIC NICHE
Just as you may have already heard, "blogging is a business", and like any other business, you have to conduct a feasibility study on your choice of business (which is your blogging "niche" in this case), before doing anything else.
Get what I mean?
Ok. What I mean is; You have to study other blogs in your niche (fashion/music), to know what others are doing.
You have to study both successful, unsuccessful, and failed blogs.
This will show you what works in the fashion/music niche, and it will enable you to avoid the errors made by failed blogs.
Make sure most of the blogs you are studying are Nigerian-based fashion/music blogs, as it would help you even more.
Now, after writing down all your observations, and setting up a plan, we move to the second step.
Step 2:
CHOOSE A DOMAIN NAME
As far as blogging is concerned, your domain name is one of the most important things.
This is what allows a user to access you online (it is your business address).
Get?
A domain name might seem like one of the most unserious things when starting a blog, but it is not.
To make sure you are on the right path, here are some tips on how to choose the right domain name.
Make it short: As a blogger, you want most of your visitors to easily memorize your domain name, so they can reach you through the search engines next time.
Don't you?
Now, if you want that, you have to make your domain name short, as unreasonably long names are harder to remember.
Trust me, this will help you, as it would easily popularize the name of your blog, when you start gaining authority in your niche.
Always remember to make it short and captivating.
Keep a hint: Do you understand what I mean by this?
Ok. By keeping a hint, I mean pointing out the topic of your blog in your domain name.
Your blog should indicate something in your niche, so that viewers can easily relate to the purpose of your blog, even before making any research.
This will help you in the search engine results.
If you are already a popular person in the fashion/music industry, you can use your name or nickname (one you are known with).
Other than these, you should avoid complex combinations of letters and numbers in your domain name.
Having talked about choosing a domain name, we now move to the third step.
Step 3:
CHOOSE YOUR BLOGGING PLATFORM
Choosing a blogging platform all depends on your budget.
Do you want a free blogging platform, or a paid hosting plan ?
There are free blogging platforms where you can create a free blog that goes with a sub-domain (e.g, abc.blogspot.com, or abc.wordpress.com), instead of main domains like; "abc.com, abc.net, abc.ng, and the rest".
Hope you understand.
Now, you will find below, some of the best free blogging platforms, and some cheap hosting plans ( for those who are ready to spend a little).
Best Free Blogging Platforms
These free blogging platforms are simple, clean, and easy to use, but they do not give you complete control over your blog.
Using a free blogging platform, you'd be limited when it comes to the customization of your blog, and their are even some more things you'd not be able to do.
It is advisable to use these free platforms only if you are just testing out yourself in the blogging world.
If you mean business, then it is way better to opt for the paid hosting plans.
Talking about the paid hosting plans, here are some cheap web hosting companies right here in Nigeria, that you can use to start a blog.
Paid Hosting Plans
Domain king is a paid Nigerian web hosting platform that offers fast and reliable hosting at affordable rates.
For as low as #300 per month, you can host your blog on domain king's Soldier hosting plan.
This will give you 2GB SSD space, cPanel, SSL, unmetered bandwidth, ability to host two sites, and a free .com.ng domain.
With as low as #3600, you can host your blog for a whole year on this platform.
With Whogohost, you can create a blog and host it on their platform for as low as #300/month.
Isn't that cool?
You even get a free .com.ng domain name for using any of their hosting plans.
This is a good paid hosting service you should consider, if you want to start a blog here in Nigeria.
Other Nigerian Web hosting services are;
Aside from these Nigerian hosting plans, you can set up a "WordPress.org" blog with a custom hosting and domain, or you can consider international hosting platforms like hostgator, bluehost, godaddy, e.t.c.
They all have cheap plans you can explore.
Step 4:
START WRITING
Now that you have successfully created a blog, it is time to move to the main business.
As a blogger, it is indeed no news that you'd have to prepare for writing.
After creating a blog, the next thing is to fill it with contents.
This is what actually attracts viewers to you.
No one visits an empty blog.
You have to fill your blog with quality contents that'd keep viewers glued to you, and your contents must be original. (That is; "Not copied from another blog").
Always make research while writing, to make sure your stats are true.
This boosts your credibility, and generally attracts more subscribers.
Step 5:
PROMOTE YOUR CONTENTS
Even the highest quality articles in your blog can not locate viewers on its own.
To gain popularity in your niche, you have to promote your blog to others.
There are various ways to publicize your blog.
They are;
Today, anything can go viral on social media.
Every one has atleast a social media account (facebook, twitter, or instagram).
All you have to do is create a page for your blog on popular social media platforms (facebook, instagram, and twitter), to boost your popularity.
Always tell friends to help you in spreading the information too.
Trust me, this really works.
You can generate a whole lot of traffic from online forums like; Nairaland, Quora, and Reddit.
All you need to do is find your category in these forums, and post some of your articles.
Trust me, people who love them would try to visit your blog.
Another way is to answer some questions in these forums, with links to your blog.
People who need answers would certainly follow your link, to see if it helps.
These are good ways to promote your blog.
You have to make sure your articles are seo friendly, and properly titled, to attract even more viewers from the search engines.
Step 6 (Final):
MONETIZE YOUR BLOG
After the rigorous work of filling your blog with contents, and promoting these contents, we move to the final stage (Monitizing your blog).
There are many ways you can monitize your blog.
They are;
You can monetize your blog by allowing ad placements from ad service providers like "Google Adsense".
This is the most popular way bloggers make money online, but qualifying for "Google Adsense" is a bit difficult for most bloggers (especially new ones).
You have to attract enough traffic, and provide real quality contents to be approved.
You can search for; "Google adsense blog approval requirements" to know more.
Through Affiliate Marketing
This method of making money through your blog is beginner friendly.
You can start making money from affiliate marketing even as a new blogger with just average traffic.
As an affiliate, all you have to do is register for an affiliate program, and promote products to your viewers (products related to your niche).
You get a commission for each sale made through your link.
This would help a lot in monetizing your blog.
Some affiliate programs in Nigeria are;
Payporte Affiliate Program
Kaymu Affiliate Program
And lots more.
You can also join foreign affiliates like Amazon and Alixpress affiliate programs.
Other ways you can make money from your blog are;
Through Private ad sales.
Creating and selling your own products/ courses to your subscribers.
Through sponsored posts.
And lots more…
So far, you now know how to start a fashion/music blog right here in Nigeria.
I wish you success, as you venture into the blogging world.
For more creative business ideas, Visit NaijaGists.com Creativity Center.
Follow NaijaGists.com on Facebook and Twitter.