How To Write A Petition Letter To Police In Nigeria..Guide To Lodging A Complaint
A petition is a formal request written to an individual or a group that has authority to grant the request contained in the petition. Petitions are usually signed by many people to push for a cause. Many Nigerians do not know anything about petitions and so do not know how to move for changes that will make their lives better. The police is one of the most important agencies responsible for the security of lives and properties in Nigeria so it is pertinent for the public to know how to write petitions to address issues of security in their localities especially now that security challenges abound in the country. We will look at how to write a petition to the police in this article in a step wise manner to make it easy for people to follow.
Things to note before writing a petition
Gather information: The first step to writing a good petition is to gather information. If you do not have the right information then you have no case to present. You must thoroughly know what you are asking for by having complete information about the situation. Are there robberies in your neighbourhood? How many victims do you have so far? What is their condition? How often do the robberies happen? You must gather as much information as you can before starting out. It is more like intelligence gathering.
Know who to address your petition to: You want to write a petition to the police yes, but who is the person or the office you are applying to? Even the police has different departments. There is the Special Anti-Robbery Squad (SARS), there is the Criminal Investigation Department (CID), there is a department in charge of traffic matters etc. find out the correct department to address your petition to and if possible the particular officer you should address. This is important because if the letter gets to the right person but is addressed to someone else, they may be reluctant to act on it after all it wasn't addressed to them and it may end up in the trash. So find out all you need to know about who to address.
Find out the number of persons that need to sign: Every petition has a number of people who must sign for it to be acted upon. You should do your research to know this so that your petition doesn't fall short of signatures and get denied. No one may care enough to tell you why your petition was not acted upon but most are left unattended because of this simple but important information.
Writing the petition
Now that you have gathered all the information you need, it is time to write!
Write your correct address: Your petition is essentially a formal letter so you need to put your address at the top right hand corner of your letter. It is important that you give a correct and traceable address for correspondence in case your addressee wants to get back to you about your petition.
Write the correct address for the addressee: Try to be as accurate as possible when writing the addressee's address. Put the correct P.O Box or PMB number to avoid mix ups especially if you are not submitting in person. This is very important to ensure your petition gets to the intended recipient.
Give your petition the right title: Like any other formal letter, your petition should have the right title because that is where your addressee will get a clue of what the letter is about. Most times the people you write to do not have time to read through so make sure your title is clear enough to give them a clear picture of what they are dealing with.
The body: This is the biggest and most important part of your petition and the idea is to present as much information as possible in as short a letter as possible. You must be conservative with words and liberal with information. Like I said most people are very busy and don't have time so present the information as briefly as you know how. Make sure it is not boring or containing too much unnecessary information to encourage your reader to read on if you want your petition to succeed.
Closing: Close your petition properly the way you close any formal letter. It is serious business so treat it as such.
Read your petition: Most times when people write they tend to make mistakes no matter how proficient they are with writing. Read your petition to see if there are mistakes in grammar, punctuation or content. You don't want your addressee seeing several obvious mistakes in your petition because they may conclude that you are not a serious person therefore giving a bad impression even if you are not careless. Remember first impression matters and believe me you need all the good impression you can make on this one. Make all necessary corrections to make sure no obvious errors are in your letter.
Give someone else to read: One temptation you must resist is the temptation of thinking you got it all right without anyone else seeing the letter. Give someone else to read. Anyone who can read English Language will do. They may see some things that are wrong with your petition that you could never see even if you read it a hundred times. The more people you give your petition to read, the better so do not hold back. Give it out!
Submit: Now that you have read the petition and other persons have read and agreed that it is ok, it is time to send it to your addressee. You will need a white envelope to put the petition in and you will need to write the address of the person you are sending it to on the back. If you are submitting in person or through a third party, it is ok to only write the addressee's address. If you are sending it by post, write the addressee's address on the back of the envelope and your own address on the front the envelope so that the postal service can trace you if for any reason the letter is not delivered. Again, provide as much information as you can in your address including your phone number so that you can be reached if need be.
Wait for a response: Congrats! Now that you have submitted your petition, now sit down and wait for a response from the office you sent to. During the period of waiting you can talk to some people about your petition and why it is necessary so that they can support your cause in other ways. Some may help to push for the implementation of your petition through some important people they know if your cause is reasonable so do not keep quite.
You can also hire a Human Rights lawyer to take care of all the above headache for you .
Here is a sample petition letter for your use.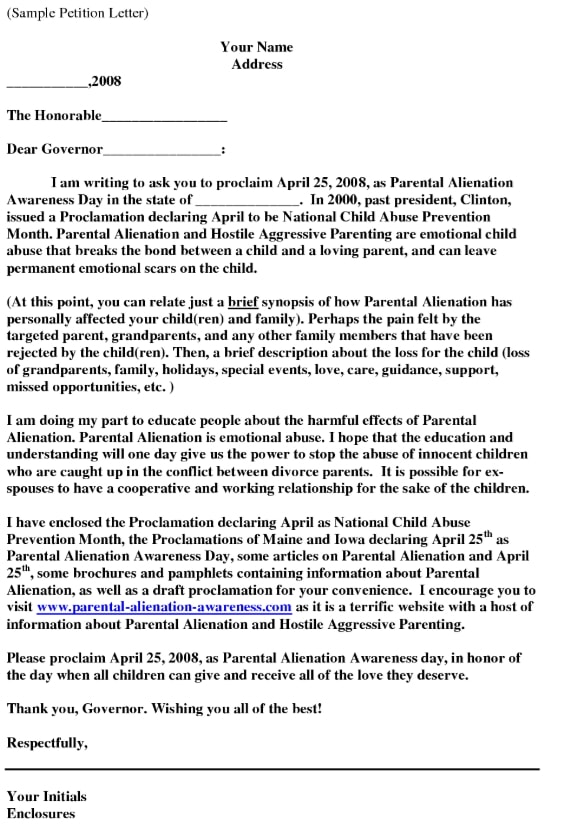 This is the information you need to guide you when writing a petition and if you pay attention to them your petition might just succeed provided you have the required number of people to sign. I wish you success and good luck with your writing! .