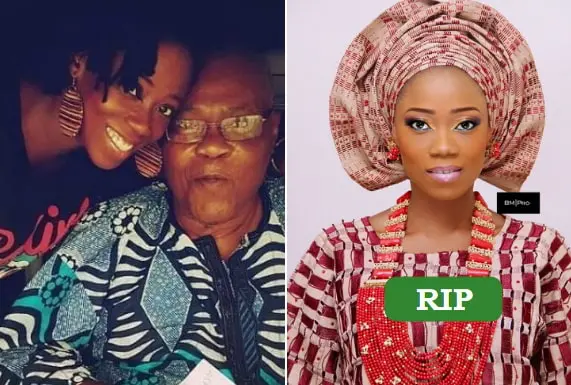 By Net NG
How Inspiration FM OAP Tosyn Bucknor Died A Year After Father's Death
As Nigerian radio listeners come to terms with the sudden death of Tosyn Bucknor, one of the most beloved media personalities on air; reports reaching us have it that the University of Lagos law graduate succumbed to a major sickle cell crisis that struck her in the last three weeks.

Born Oluwatosin Abisona Bucknor on August 15 1981, Tosyn was born with the sickle cell disease and she battled with the condition all her life. She often spoke publicly and candidly about the struggles of living with sickle cell anaemia. She was not only a radio presenter, but she was also an all-around media professional, singer, songwriter, lawyer, actress and activist.

A colleague of hers (who requested not to be named as Inspiration FM where she worked had issued a statement declining to comment) told us exclusively that the last three weeks were the most challenging of her life which ultimately took her.
Speaking in a dispirited voice, he said
"It is a difficult time for every one of us at Inspiration FM because we did not see it coming. The last time she was here was three weeks ago. She had been excused from work because she had another crisis but we thought she would pull through as she usually did, but we did not know that was the last time we would see her."
Patients who have from sickle cell periodically have "crisis" where they suffer a wide range of conditions and takes between a few days to weeks.
Each year, more than 100,000 children are born with SCD and Nigeria is said to have one of the highest prevalence of the disease.
Fully aware of her condition, Tosyn was a dogged fighter. She started THESE GENES in 2007, a project designed to help people with sickle cell disease to provide support for one another. Her death from the complications shocked many Nigerians who had come into contact with her at different times.
The fact that she was home alone while her husband went to work led her colleague to believe that she was getting better and would soon be back at work. Sadly, on the night of Monday 19th November, her husband came home to find her lifeless body.
Her colleague further said,
"My heart bleeds and the tears are flowing uncontrollably because I'll miss you so much, But at the same time I rejoice because I know that she is with Jesus and we will see again."
When asked the kind of person she was, our well-placed source said
"Tosyn was the sweetest soul ever. She was the kind of friend who looked out for everybody because she had a large heart, and as a result of that, everybody loved her. I hope and pray that God will give her husband and sister the fortitude to bear this loss."
It's a loss that will be deeply felt her family, made worse by the fact that their father, Segun Bucknor died just over a year ago. In a sole Instagram post, her elder sister Funke Bucknor-Obruthe confirmed that she died of sickle cell complications. Also heartbroken is her husband of three years, Aurelien Boyer who is said to be completely distraught at the death of his wife.