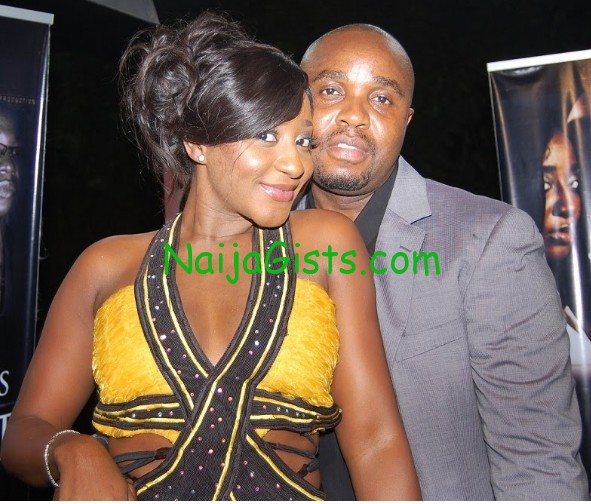 Ini Edo & Husband Philip
March 30, 2012 – I'll Do Whatever It Takes To Save My Marriage – Ini Edo
Ever wondered why we haven't been hearing any news about Nollywood actress Ini Edo's marriage despite the long-distance relationship she'd going on? naijagists.com
The actress is determined to do whatever it takes to keep her man.
In a recent interview with Ajibade Alabi, the sexy actress opens up on the secret of her marriage success.
She additionally discussed more on her husband Philip Ehinagwina who is based in the United States.
Read the interview except below
You seem to have done a good job managing your career and marriage at the same time that none does not interfere with the other?
(Laughs) You think so?
Yes and everybody also thinks so…
Really?
Tell us the secret?
Well, it is not easy at all especially since my husband is based abroad. I was actually supposed to leave for the United States last month (February) but I got so preoccupied that I had to call my husband and ask if he could come over.
Eventually, I had to plead with him before he agreed that I should come at a later date. It is not easy but he is very understanding and he appreciates my job a lot. He knows I work very hard, so we have a good understanding and we communicate often.
Many people would be surprised, especially your critics, that Ini Edo's marriage is waxing strong. What has been your staying power?
I have actually been able to hold on to my marriage. It depends on how you set your priorities and not get carried away by the whole fame thing. You should know where to be at the appropriate time and where not to be at all. I just create a balance between my career and my personal life.
Like I said earlier my husband is based in the United States of America, but we see each other all the time. He just left Nigeria in January, and I should be with him in the US soon we shuttle. It is either he comes to Nigeria or I go over to the US.
How does he react to controversies about you?
He knows that I am not a bad person, he knows me well enough not to bother about the stories, all he does is call me up to find out what is happening.(laughs) Talking about the scandals, my husband knows me more than any other person.
Sometimes, when they say things about me and we are together at such moments, he would look at me and say; are you the same person that people are talking about? He knows what I can do.
Are you in anyway thinking of quitting acting, so as to create time for your home?
I don't think I will quit acting. I might divert to other areas that has to do with movies. My being involved in the entertainment world has not really affected my home, so there is nothing like calling it quits.
It is now three years since you got married…
(Cut in) oh, so you have been counting the years? Na wa for you o…
I am not the only one counting; Ini, people out there, especially your fans are counting.
It is three years and so what?
When should we expect Ini Junior or Philip Junior?
Well it is all about planning and having the right timing for it. My husband and I have discussed it.
We have an understanding that the timing is not right for now. I do not also want to say we are deciding on the right time for it, because nobody has the right to do so but God. Let me just say it will be very soon.
How many kids are you planning to have?
Let us leave that for now.
Ini Edo should smarten-up. Distance do cause tension in relationships. It's better to find a way to come together on time (It's not all about career and money, starting a family on-time is precious).
We wish you the best in your marriage Ini.