Crime News
Ridiculous: Bola Tinubu's 60th Birthday Costs N1 Billion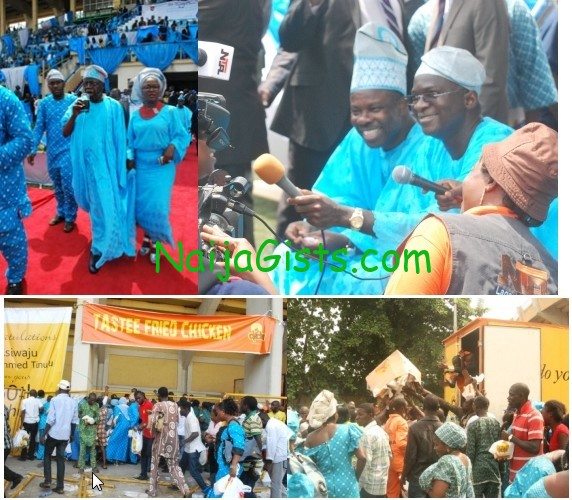 March 30, 2012 – Ridiculous: Bola Tinubu's 60th Birthday Costs N1 Billion
Imagine a country where the poor masses are dying / going hungry everyday. Graduates and youths unemployed because of slow economic growth. naijagists.com
Senator Bola Tinubu's lavish birthday which took place yesterday at Teslim Balogun Stadium costs a whooping N1 Billion.
Initial reports stated N200 million. According to reliable sources, the 60th birthday bash actually costs N1 Billion.
Here is the breakdown of the funds
Action congress states paid N10 million each (

nonsense

)
Lagos state government paid N150 million (

ridiculous

)

Governors of Ogun, Ondo,  Edo, Osun, Oyo and Edo states paid N50 million each – N300 million (

what for

?)

Lawmakers, other politicians and contractors who benefited during Tinubu's tenure paid the rest
Nigerian Politicians are the most corrupt people on earth take it or leave it.
Nigeria needs nothing but revolution. Without revolution, these selfish politicians will continue to take care of their own bellies.
A message for all you shameless politicians – continue embezzling and when you die,  take it to your grave (nonsense)