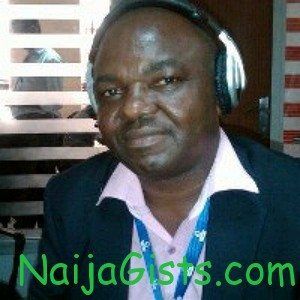 Feb 9, 2013 – Joe Ighile's Death: Facebook Condolences Trail Channel TV Presenter's Sudden Death
Hours after the death of popular Channel TV's broadcaster, Mr Joe Ighile popularly called Daddy Joe, Big Joe and Pastor Joe Ighile by his fans, thousands took to his Facebook page to share their condolences.
He passed away suddenly last night at the hospital.
According to a source, while the now late Joe was presenting last night, he just wasn't getting his line right. Channel TV immediately went off the air during which he was rushed to the hospital.
He died briefly at the hospital.
Below are some condolences messages from late Joe Ighile's fans
My dear brother JOE IGHILE, why? We were together just over a week ago and you never told me you were leaving even when we spoke after your return to Nigeria. Death oh death why oh why? Why is it that good men don't last? The firewood that burns most in the fire does not last long… I am short of words dont even know what to say or how to begin. You were kind, calm, mature, full of wisdom and patience and above all, you feared God. You were a great man and a that you will remain in our hearts. Sleep on Mr Joe you deserve the rest from this wicked and cruel world. Rest in peace MR JOE IGHILE till we meet to part no more
I remember that sunny afternoon, it was few days to the closing ceremony of the National sport festival EKO 2012, met you, Emeka Nwani and Dumnodi Okonta, we had Launch together, the four of us had Eba and Vegetable soup, after we juggled over some football issues and we all promised to do our best for the development of the game, RIP Joe Adieu.
Painful exit. RIP
Just yesterday mrning u took ma pix n promised to post it on fb for yabbs, now dats not possible. I wish I had hugged u dat mrning, now I can't anymore. Mr Ighi, I will miss u for a very long time to come. Rest In Perfect Peace
Just like yesterday when you celebrated your Birthday. RIP BOSS.
This is hard to believe. I just couldn't sleep last night when I heard the sad news. RIP Mr Joe
Unbelievable wat a loss! Rip sir dt knw y gud peopld die to early stil in shock.
Uncle Joe? Still unbelievable,may ur gentle soul rest in perfect peace.
This is sooo hard to take! Was with you at Channels the day the Nations Cup kicked off as a guest on the morning show. We rode together to my office and you were off to South Africa the next day! Didn't even know you were back Joe!!!Gosh!!!This is so unreal!!!
Big Joe,this hard to take but d consolation is u knew master Jesus,rest in d bosom of Christ
May God strengthen your family at this very sad time,I'm consoled by the fact that you knew Jesus.
RIP uncle Joe
Na wa ooo for dis life may God help us all we will miss you so much. We love you but God love you more, sure oo RIP. But one day we will see again. Good bye d big joe's.
My friend and brother, I cry even as I write this. How would I have known that our meeting in December would be the last time I'll see you in flesh and blood. It was a pleasure knowing you. Still, I can't believe that I will not see you again, Joe. I cannot believe it. I pray that you make it to heaven, my brother and that our Father in heaven will comfort your family. Farewell, my brother.
I was watching him yesterday night and just wondering why Uncle Joe was not getting his line right; and suddenly Channels tv went off air on Sports tonight.A perfect gentleman.Pastor Joe Ighile RIP..!I will miss your gentility.
World Producer,i am happy for you even in death cos' you know and live in CHRIST and you are already with HIM,rest in peace.
Jeeeeeeeeeeeeeeeeesssssssssssssssssssssssssss…..difficult 2believe & accept….a gentleman 2d call………..RIP
A good man with good heart. This man gave me my first experience as a television sports presenter/analyst on Channels Sports on Sunday without knowing me from anywhere. He thought me writing skills in sports journalism without a complain that I don't pay him.
Oga Joe, may God reward you abundantly for all the good you've done to all that av come across you n may He forgive all ur mistakes so you can rest in peace
This gentleman was one of our very good swimmers at Edaiken, am I right so that we can take it up frm there?
Speechless!!! A rare personality… because there was a space in your heart that fully understood situations, it gives me the confidence there is a space for you in the kingdom of our father who hath in heaven. Ki a ku ni omode ki o y'eni, o san ju ki a di agba iya. We will always remember your support and kindness.
You guys must be kidding me. Someone please tell me is not true………Pastor Joe Ighile, abeg come come ooo. We still need you here.
SOM1 pls tell me,dis is not true,Daddy Joe,OMG,y do gud people leave d world like dis.RIP Daddy Joe,its rily a shock
Daddy Joe Return If Possible,its really a shock.
DADDY JOE, AHH OH MY GOD? HOW DID THIS HAPPEN, AM SOOOO ANGRY & PAINED, YOU DID NOT DESERVE UNTIMELY DEATH! GOD PROVIDE & PROTECT HIS FAMILY. RIP Joe Ighile
I CANNOT MAKE SENSE OF YOUR DEATH, SO YOU DID NOT WAKE UP THIS MORNING TO YOUR FAMILY? OH YOUR KIDS, & WIFE… I AM VERY PAINED & ANGRY. LORD GRANT DADDY JOE ETERNAL REST AWAY FROM THIS TERRIBLE & WICKED WORLD!
RIP My dear good friend.Spoke to u last week and now u gone.im still in shock.
Life! God pls have mercy on the soul of Mr Joe. RIP
Bros why na. Rest in d lord bro. Am really not interested in dis cup anymore.
OMG WHY JOE Joe Ighile THE BROADCASTER CUM PRESENTER ON Channels Television. REST IN BLISS.
Its still a still a shock to me when Godwin announced it ds morning, but u weren't sick, its not fair, when Nigeria came close to winning the AFCON trophy.
*sobs* RIP joe, u'll b misd by my uncle n I and all Nigerian.
Life and death are not fair,you are someone i admired so much.You were a true leader of men.We miss you already JOE IGHILE.Rest in peace.
Life is really a mystery! Now I understand the words of Williams Shakespeare! Its Notting but a Walking Shadow! RIP Award winning Producer U ll forever remain my mentor!
My heart goes to Channels staff and ur Family.
SAD: My heart goes out to the family of Joe Ighile (Channels sports presenter/producer) who died in the line of duty yesterday in South Africa. Gentle, friendly and God-fearing. Gave me a warm embrace Last time I saw him in Calabar when Super Eagles played Liberia.
Life! VANITY SQUARE-..WATCHED HIM PRESENT SPORTS TONIGHT YESTERNIGHT..and now he is gone..ADIEU GREAT GUY
Rest in peace Joe. Please find peace in heaven, earth has failed to offer no peace. Life itself has become an adventure, death has taken d place of sleep and good men don't last long again
Why will a trojan, a good and upright man like Joe, depart without a formal goodbye. Last week u were here with us in South Africa, dis week u av joined d angels in Paradise. The AFCON Trophy will be ur parting gift. Adieu Joe
who can questn dis God? you were surely a jolly good fellow…sleep well & good night my dear friend.
Few hours ago he was thinking of the future but not he has become a history. Farewell brother, Joe Ighile
May his soul rest in perfect peace.