Is K1 The Father Of Aramide Adenle's Daughter?…. Find Out Below
Ibadan top fashion designer Aramide Adenle has finally distanced herself from Fuji legend King Wasiu Ayinde.
This is coming days after the Fuji Maestro announced that he's the father of Adenle's child during the burial ceremony of Adenle's mother where K1 performed.
According to Lives Time, the party, which had in attendance almost everyone that matters in the Ibadan, Lagos and Abuja social establishments, locked down the Eleyele-Ijokodo axis where it held.
It was in the presence of guests who turned out in their thousands that K1, who was the musician on bandstand, dropped the bombshell.
And he did it in grand style. Not a few people were surprised, especially those found it hard to believe that Aramide, a celebrated fashion designer and K1 were that close, not to talk of being in an amorous relationship.
In his characetristic manner, King Wasiu Ayinde Marshal made it enthusiastically dramatic. Only those who waited till the tail end of the party however got the privilege of being informed firsthand by the musician, that he is indeed the father of Aramide's beautiful daughter, Iradah.
K1 changed the beat at a point and sang one of his hit songs of the '80s, "se b'emi ni baba re, emi lo ngbo bukata lori mother e o, Iradah Oluwa omo emi Omogbolahan" (I am your father, I am the one providing your mother's needs, Iradah, I, Omohbolahan's daughter).
He went further to idiomatically describe Aramide as the main ingredient of his perfume that he applies always. K1 didn't stop at that, he went on to appreciate Aramide, her daughter and the family by spraying strictly dollar notes.
Even when his boys tried to change the status quo by bringing bales of Naira notes in place of the dollars he was spraying, the Fuji lord frowned and insisted on spraying dollars.
Here is how Adenle who kept mute about the father of her child described her relationship with K1;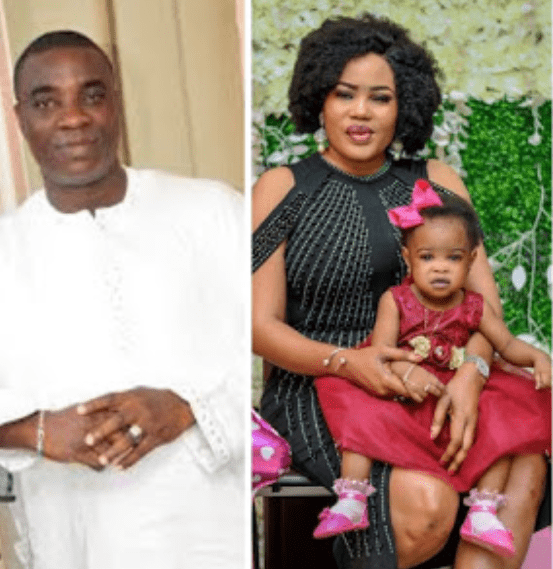 "K1 is not the father of my child. I have known Alhaji since I was a little child. Alhaji refers to us – myself and my sisters as 'awon omo mi.' So, I still find it very disheartening why people would think I had my child for Alhaji. In the Yoruba language, when you get help from someone and you reply with 'oshe okomo,' it does not mean the person is your husband. It does not also mean the child is my biological child when I say to people – 'omo mi nko?'.