Hot Gists
Mad Man Recovers From Mental Illness After 17 Years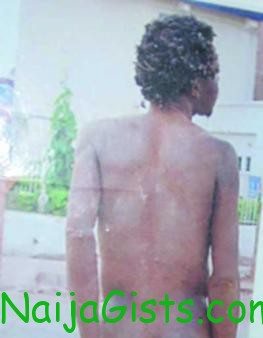 August 23, 2012 – Mad Man Recovers From Mental Illness
A mad man identified as Okorie Nwankwo who hails from Bende in Abia State Nigeria has been miraculously healed of his insanity after 17 year of bondage.
His divine healing happened on Aug 21st, 2012 at Olugbede close, Egbeda area of Lagos State Nigeria.
Passersby who have known Nwankwo for many years could not believe their eyes.
"What we are witnessing today is amazing and it shows that God is still in the business of healing the sick. It reminds me of what Psalm 126:1 says that 'When the LORD brought back the captivity of Zion, we were like those who dream.'" a resident said
"We have been praying for days in the church for the healing of our land and trusting God that our salvation was near for total healing. When some members of the church went out on the street around Egbeda, they saw Okorie Nwankwo and decided to pray for him. In the course of praying, he (Nwankwo) recovered his senses and discovered that he was naked.
"They brought him to the church and intensive prayers were offered for him and to God's glory, he has been healed by God," said the Pastor who God used to heal the man
A Pastor identified as Rotimi said people should put their trust in God and believe God to restore their battered glory.
Nwankwo said he couldn't remember the addresses of his immediate family members. He is seeking the help from members of the public who could still recognize him to come and help him in reuniting with his family members.
Divine healing is real.