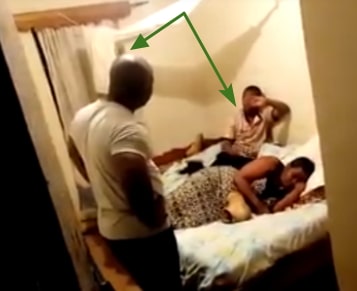 Check out the viral video of a frustrated Zambian man who got dumbfounded after catching his beloved wife in the act with her boyfriend.
The above drama happened in a boarding house in Solwezi, NW Province of Zambia.
The cheating wife is said to be a student at a local college in Solwezi.
Apparently her husband placed her on surveillance after a tip off from locals.
The wife looks unperturbed the moment her husband caught her in the disgraceful act.
The hardworking businessman who was calm at first later lost his cool and shut the door on students who had gathered at the hostel room's door to see what was happening.
The drama reportedly happened last week Monday.